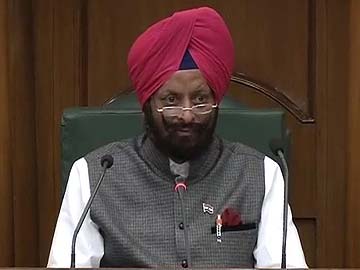 New Delhi:
Arvind Kejriwal's Aam Aadmi Party (AAP) sailed through another test in the state legislature today, when its MS Dhir was elected Speaker of the Delhi Assembly.
Mr Dhir, a first-time legislator like most of the AAP members in the House, defeated the Bharatiya Janata Party's (BJP) Jagdish Mukhi. He got 37 votes. The Congress and a sole Janata Dal United (JDU) member voted for the AAP leader.
Mr Mukhi got his party's 31 votes and one from ally, the Akali Dal. The Delhi Assembly has 70 members.
Yesterday, Chief Minister Arvind Kejriwal, who has 28 MLAs and heads a minority government, had won a trust vote with the support of the Congress, the JD(U) lawmaker Shoaib Iqbal and an Independent.
The BJP, which is the single largest party in the House had opposed the motion and said it would also contest for Speaker.
Mr Kejriwal had not appeared unduly worried. "Whoever becomes Speaker, it does not matter," he had said yesterday.