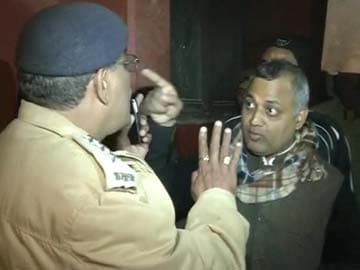 New Delhi:
The Delhi Police has registered a First Information Report (FIR) against unknown people, following a complaint by a Ugandan woman after Aam Aadmi Party's 'midnight raid' at her house on Wednesday night. Delhi's Law Minister Somnath Bharti, who is at the centre of the controversy, has not been named in the FIR.
"A FIR has been registered against unknown accused in Malviya Nagar police station under various charges dealing with wrongful confinement, criminal intimidation and act intended to insult the modesty of a woman," a police officer said, adding, "However, minister Bharti's name is not mentioned in the complaint but we will ask the complainant to identify the law minister and others in the video footage."
The woman, in her complaint filed in the Saket court on Saturday, has alleged that a group of people from a political party forcibly entered her house in south Delhi and molested her. She also alleged that the accused threatened her to leave the premises where she has been residing in. While she didn't name any individual or a political party, she told the court that she could identify the men. The court then ordered the police to lodge an FIR and report back to it on the matter on February 14.
Mr Bharti, who has been heavily slammed for what many described as vigilantism in the form of the raid, denied any knowledge of an FIR. He also vehemently denied any wrongdoing on the part of workers of his Aam Aadmi Party who were present during that raid.
"Entire incident is recorded, none of the party workers raised their hand or misbehaved with any of them," the minister said.
His boss, Chief Minister Arvind Kejriwal, too has strongly backed him. "I don't think Somnath Bharti made racist comments... he doesn't have anything against the women," he told NDTV yesterday. (
Watch
)
Mr Bharti had, aided by some residents and supporters, accosted four women from Uganda during the raid on a building in Khirki Extension, which is in his constituency in south Delhi. At least two were allegedly forced to go to hospital and undergo drug tests. The minister justified raid saying drugs and sex were allegedly being trafficked there. (
Read: In AAP minister's midnight raid, woman made to urinate in public
)