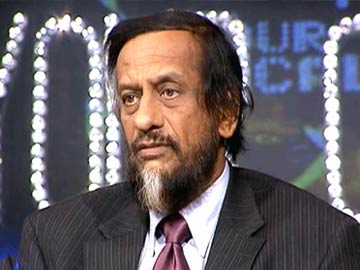 New Delhi:
The AAP government's policies on water and electricity are well intended but not the best way to achieve desired goals as supply of over 600 litres of free water to Delhi residents may end up in a lot of wastage, directer general of TERI RK Pachauri has warned.
"The intentions are very good but I am not sure this is the best way of going about it. In the case of water and even electricity firstly you have got to look at the whole economics of water supply and power supply," he told PTI in an interview in Delhi when asked about Aam Aadmi Party government's policies on water and electricity.
"You also need to make sure you bring about improvements in the system so that wastages and leakages are stopped and that the efficiency of water for instance at every stage is improved. Now, if you are going to supply something for free where is the incentive to use it efficiently," he said.
Pachauri, who has been serving as the chairperson of the Intergovernmental Panel on Climate Change (IPCC) since 2002, reasoned that if people are given 600 or 700 litres of water free of cost how can they be expected to use it efficiently.
"That is a very basic aspect of economics. People have to realise the scarcity of something they are consuming to be able to use it efficiently. I have said this before, I am sorry I fully respect and commend the intentions but I am not too sure whether these are the best means to bring about what they want to do," Pachauri said of AAP's policies.
Within 48 hours of coming to power, the Arvind Kejriwal-led government on January 30 delivered on its promise supplying free water of 667 litres a day to each household but tempered it with a 10 per cent across-the-board hike in tariff.
"When you talk of water supply, its not merely water that has to be supplied in quantity but it also has to be up to a certain level of quality and why is it that a city like Delhi has to rely on bottled water. We should be able to get portable water that we can drink without any fear directly from the tap," the head of The Energy and Resources Institute (TERI) said.
Pachauri hoped the present Delhi government and those that follow will make sure improvement is brought about in water quality so that people do not have to buy plastic which only add to pollution and are really beyond the reach of the poorest of the poor.
Asked about recent reports which claimed that Delhi was the most polluted city in the world, he said, "I would say that is unfortunate and I hope that is something that can be corrected. After all the government has not been there very long and I hope sooner or later they will realise the importance of clean air, cleaner water."
Asked about India being ranked at 155 out of 178 countries on the 2014 Environmental Performance Index (EPI) released by Yale University, Pachauri said, "It is a case of collective failure, we cannot blame the government and the government can't say that people are insensitive to this issue."
"Our institutions have been at fault and most definitely public perceptions have also been incomplete as a result of which I think this is a case of collective failure and I think we need to build up all are institutions, we need to make sure that all are stake holders are aware so that we find solutions jointly to some of these problems," he said.
Pachauri called for bringing environment and climate change issues to the fore of the political agenda ahead of the general election with the manifestos of the political parties addressing such concerns.
He noted that as even though corruption has been there for some time but its only now coming to the fore, in a similar way environment issues will also soon burst on the horizon.
Pachauri gave a mixed response to UPA-II's performance on environment and climate change issues as he hailed the government for coming out with a national action plan on climate change but said it could have been better implemented.
Asked who between Narendra Modi and Rahul Gandhi was more suited to lead the country, he said, "It is for the people of the country to decide. I will repeat what Salman Khan said in the company of Narendra Modi that may the better man win."
Pachauri also called for helping Pakistan in its acute power crisis and said the government should immediately reach out to its energy-starved neighbour.
"It is a unique opportunity. If we have a problem with the intentions and attitudes of the people of Pakistan this is one means by which we can convince them that we are extending a hand of friendship," he said.
"There has been talk about our supplying 500 MW of power to Pakistan. Why don't we fast track that? Why don't we do that overnight? What's the problem? You could get into a commercial arrangement to supply them with 500 MW of power. I just don't know why they are hesitating in something like this," he said.
It was under Pachauri's tenure that the Intergovernmental Panel on Climate Change was awarded the Nobel Peace Prize in 2007 during his tenure.