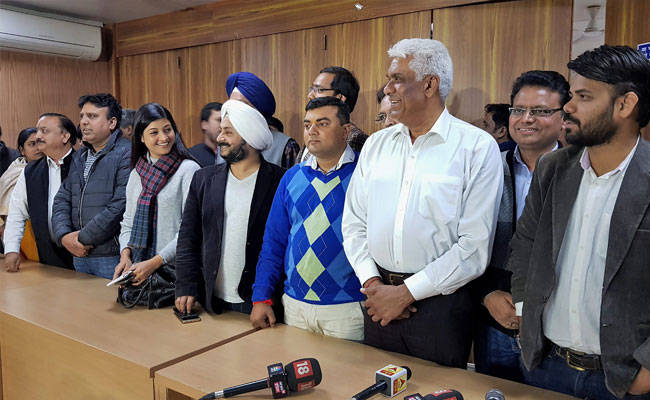 New Delhi:
Delhi Chief Minister Arvind Kejriwal was given a major boost by the Delhi High Court when it reinstated the
20 Aam Aadmi Party lawmaker
s
disqualified by the Election Commission in January. The Election Commission had taken the step after the MLAs were accused of holding offices of profit. Holding offices of profit would mean that they broke basic rules by holding positions with the Delhi government that allowed them perks. President Ram Nath Kovind had accepted the recommendation of the Election Commission at the time.
"Truth has won," Arvind Kejriwal tweeted after the
High Court's decision
, adding that the court had "given justice to the people of Delhi."
Here is a timeline of events of the AAP MLA disqualification case:March 13, 2015:
The Arvind Kejriwal government passes an order to appoint 21 MLAs as Parliamentary Secretaries.
June 19:
The appointment was challenged by advocate Prashant Patel who sought their disqualification with then President Pranab Mukherjee.
June 24:
Legislative Assembly passes the Delhi Member of Legislative Assembly (Removal of Disqualification) (Amendment Bill), 2015 excluding Parliamentary Secretaries from 'Office of Profit' with retrospective effect.
June 13, 2016:
Then President Pranab Mukherjee refuses to give his assent to the bill.
June 25:
14 bills passed by the Delhi government, including the Bill on Parliamentary Secretaries, are returned by the centre.
July 14-21:
Election Commission gives hearing to 21 AAP MLAs.
September 8, 2016:
The Delhi High Court sets aside an order of the Kejriwal government appointing 21 of the party's MLAs as parliamentary secretaries.
September 8:
Election Commission issues a show cause notice to 21 AAP MLAs.
January 6, 2017:
Jarnail Singh, AAP MLA from Rajouri Garden, resigns.
June 24:
Election Commission rejects pleas of AAP MLAs to drop 'Office of Profit' case.
August:
The 20 AAP MLAs move Delhi High Court against the EC's June 24 order.
October 9:
EC issues notice to AAP MLAs, seeks explanation.
January 19, 2018:
Election Commission recommends to President Ram Nath Kovind the disqualification of the 20 AAP MLAs.
January 20:
President Kovind approves the EC's recommendation of disqualifying the 20 AAP lawmakers.
January 24:
MLAs moves High Court seeking quashing of the decision.
February 7:
The HC fixes day-to-day hearing of the MLAs' pleas.
February 28:
The High Court reserves order on AAP MLAs' pleas.
March 23:
The High Court quashes notification that had led to the disqualification of 20 AAP MLAs.
With inputs from PTI