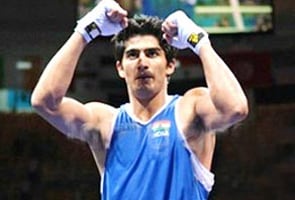 New Delhi:
Olympic bronze-medallist Vijender Singh fell victim to some harsh refereeing and settled for a bronze medal after the India's protest was rejected even as three others made their way into the finals on a dramatic day for the country's boxers in the Commonwealth Games here on Monday.
Vijender (75kg), the reigning world number one, lost 3-4 to England's Anthony Ogogo after being handed two warnings - first for hitting his opponent on the back of his head and the second for holding the Englishman - in the drama-filled final round of the bout.
But Suranjoy Singh (52kg), Manoj Kumar (60kg) and Paramajeet Samota (+91kg) assured India of at least three silver medals by beating Pakistan's Haroon Iqbal, Bahamas' Valentino Knowles and Tonga's F A Junior respectively.
However, the talking point of the day was Vijender's shock loss. The Indian team filed a protest but the jury which reviewed the bout upheld Canadian referee Michael Summers' decisions.
"The jury reviewed the bout and came to the conclusion that Vijender was holding his opponent and the referee was right in warning him. When the Indian team pointed out that even Ogogo was holding Vijender, the jury felt it was not the case," Indian Boxing Federation Secretary General P K Muralidharan Raja said, adding that he was "satisfied with the final verdict".
An enraged Vijender lambasted the twin warnings, saying the four-point penalty was "harsh and unfair."
Speaking to PTI after his shocking loss in front of a capacity crowd at the Talkatora Stadium, the 24-year-old World Championship bronze-medallist said the warnings were totally uncalled for.
"The warnings were unfair and harsh. If the referee thought I was holding Ogogo then he should have penalised this guy as well. He was also holding me," the disappointed boxer said.
"It's a joke that somebody has won by scoring points just out of warnings," he said.
Although India is set for its best-ever medal haul of seven, it was a thoroughly disappointing day for the nation's boxers as they found themselves at the receiving end of some harsh refereeing.
All of Ogogo's four points came through warnings handed to Vijender in the third round. The loss became all the more shocking as Vijender had won his previous two bouts in less than the regulatory three rounds.
The world number one Indian was leading 3-2 with barely 20 seconds left on the clock when he was handed a warning for holding his rival after an engrossing fight.
The capacity crowd at Talkatora Stadium booed Ogogo and chanted 'cheater, cheater' even as a visibly upset Vijender made his way out of the arena.
Ogogo, exulting after perhaps the biggest win of his career, said a "boxer of Vijender's stature should not have acted the way he did in the ring".
"If you think the warnings were harsh then even I didn't get points for some of the clear punches I landed. Even if he had not been warned, I think I would have won," Ogogo said.
Earlier, Commonwealth Championships gold medallist Amandeep Singh (49kg), Asian silver-medallist Jai Bhagwan (60kg) and nine-time national champion Dilbag Singh (69kg) had to be content with bronze medals after losing their respective exciting semifinal bouts.
Jai was also at the receiving end of some harsh decisions from the referee. The Haryana-lad put up a good fight but was undone by a couple of warnings that seemed too harsh.
The Asian silver-medallist was warned twice for hitting Stalker below the waistline in an ill-tempered bout.
Jai led 3-1 in the opening round but the advantage was reduced to 4-3 when he was warned for hitting Stalker below the target area not once but twice.
The warnings ultimately shifted the momentum in the Englishman's favour, who found himself leading only towards the end of the second round. Once ahead, Stalker lowered his guard and went for all-out attack against Jai, who could not adjust to the sudden change in the pace of the proceedings.
"The warnings were slightly harsh. I think the first time around I hit him only on his hand but may be the referee didn't get a clear view of where exactly the punch landed," Jai said.
"But every loss is a lesson and I will also learn from here. I will go back and see the recordings of the bout," he added.
Even Stalker felt that the local favourite put up a good fight.
"He was a tough opponent and hit some very hard punches," he said.
In the evening session, Suranjoy was his usual clinical self as he dismantled Iqbal, the younger brother of professional star Amir Khan, 9-3 in yet another dominating performance.
Manoj, however, had to toil hard to notch up a 2-1 win over Knowles and Samota beat Junior 6-2 in the last bout of the day.
The diminutive Suranjoy, chasing his seventh successive gold, downed Iqbal rather easily with his brand of tempo-boxing that left the Pakistani gasping for breath. The Asian champion Manipuri will face Benson Njangiri of Kenya in the finals.
"I didn't allow him to close to me. I defended myself well and attacked whenever I got an opportunity," he said.
But Manoj had to apply his mind against a tactful rival and just about managed to make it through for the biggest triumph of his career, which had gone haywire after a wrist injury.
"I never put myself under pressure by thinking too much about whether I would win or lose and I am glad to have made it this far," Manjoj said.
Manoj will be up against Bradley Saunders of England in his summit clash.
Earlier, Commonwealth Championships gold medallist Amandeep Singh (49kg), Asian silver-medallist Jai Bhagwan (60kg) and nine-time national champion Dilbag Singh (69kg) had to be content with bronze medals after losing exciting semifinal bouts.
Amandeep lost 5-0 to Olympic bronze medallist and European champion Paddy Barnes of Northern Ireland, Jai went down 5-10 to European Championship silver-medallist Stalker of England and Dilbag was beaten 4-5 in a thrilling contest by Northern Ireland's Patrick Gallagher.
Amandeep was the first to take the ring for India on Monday and he just could not break Barnes' shell guard despite his best efforts.
The Punjab-boxer tried everything from hooks to uppercuts to some hard-hitting straight punches to break through Barnes' defence but the Irish boxer didn't give any chance to the crowd favourite.
The first round had Barnes leading 2-0 and the Olympian's brilliant anticipation of Amandeep's attack ensured that he did not concede a single point even in the next two rounds.
"I tried everything to break his guard but it just didn't happen. I was hitting a lot of uppercuts but it didn't work," said a disappointed Amandeep.
"But I am happy to have won a medal in my very first Commonwealth Games," he added.
National coach Gurbax Singh Sandhu said Amandeep's performance was also affected by the surprise dope test that he had to give on Sunday.
"He had to drink lots of water to give his urine sample and then had to sweat it out hard to maintain weight. This was a bit harsh on his body and an athlete cannot even refuse when the World Anti-Doping Agency comes calling," he said.
Dilbag was the last Indian to step inside the arena in the first session and gave it his all against Gallagher only to lose it by a whisker.
The entertaining bout had both the boxers employing some unorthodox tactics and the crowd was kept amused with a bit of wrestling as well.
The first round ended 1-1 as both tried to gauge each other but Gallagher began to get a grip of the proceedings with some smartly-executed jabs even while keeping a shell guard to thwart the Indian.
Dilbag bounced back in the final three minutes but Gallagher's evasive tactics ensured that the Indian could not breach his lead.