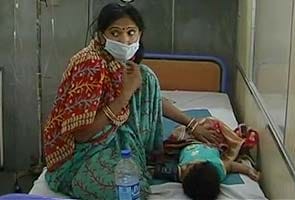 Jodhpur:
A three-year-old child, suffering from Bronchopneumonia, had a narrow escape when mismatched blood was transfused to him at the city's Umaid Hospital.
The hospital had hogged media glare last year following at least 17 maternal deaths due to administration of contaminated intravenous (IV) fluid.
Aditya, who was admitted in the unit number 4 of the hospital four days ago, had to be instantly admitted to the Intensive Care Unit (ICU) following the reaction of the mismatched blood last night.
The child is still in the ICU of the hospital. However, he is stated to be out of danger.
The hospital administration has admitted that the mistake was spotted at the eleventh hour before the blood could be administered and was removed immediately.
"It was a procedural mistake on the part of the doctor on duty, who administered the blood and we will take action against him," told Superintendent of the hospital, N K Chhangani.
Aditya had his blood hemoglobin at 7.2 and was in stable condition, where he did not require any blood, he said.
"But, in what can be termed as a deadly negligence on the part of the resident doctor on duty, he followed the ticket of a 1 year patient Laxmi with blood group A+, who was actually prescribed blood administration, and mistaking the ticket with that of Aditya, he administered the blood of A+ group to Aditya, who was actually B+," Chhangani said.
According to the family members of Aditya, within 5 minutes of administering the blood, his condition worsened and the doctor and other staff on duty immediately removed the blood realising the mistake.
Unit head Anurag Singh also rushed to the spot and Aditya was immediately shifted to the ICU, where doctors had a tough time in bringing him back to the normal condition.
Principal of the S N Medical College R K Aseri admitted that it is a "blunder" and said, "We have sought a factual report in the matter, which will be followed by stern action against the erring staff on duty including the resident doctor."
He said that the child is out of any danger now and the senior doctors are constantly keeping a watch on him, his condition deteriorated on Monday night.
The hospital administration has now decided that the blood will now be administered in the presence of the senior doctor at night in case of emergency.