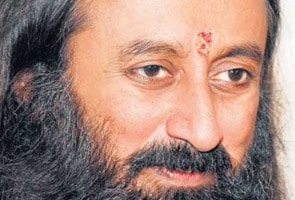 Bangalore:
Close on the heels of the firing incident at the Art of Living (AoL) centre, the ashram staff is getting extortion SMSes from an unidentified person, who's threatening to defame the organisation if a ransom of Rs 42 crore is not paid.
Gireem Govind, AoL spokesperson and secretary to Sri Sri Ravishankar has said that the staff had been getting the SMSes for the past three days. They initially ignored them, but when the frequency increased, they decided to inform the police.
Govind said that some of their senior teachers in the ashram had been getting these messages. "We informed the police on Tuesday and gave them the mobile numbers from where we are getting the SMS."
When asked as to why a complaint had been given so late, Govind said that they had to first look into the matter and act carefully upon it. When asked if they suspected anyone, he said that the ashram people had no enemies.
This incident comes a couple of weeks after a huge ruckus was caused over an alleged assassination attempt on the spiritual guru.
However investigations revealed that a farm owner adjacent to the ashram had aimed the bullet at a stray dog, and not Ravishankar, as was earlier suspected.
Inspector General of Police, Kamal Panth said that someone had called from the AoL administrative office and informed about the incident over the phone.
"I have asked them to file a detailed complaint so that we could initiate investigations, he said.