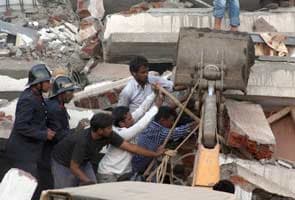 Thane:
Mangal Patil had complained to the Thane municipal corporation repeatedly about the illegal building that collapsed on Thursday in the Mumbai suburb, submitting sets of photographs each time as it rose at an alarming pace. He had also sent copies to the Chief Minister's office, he says. Clearly, no one bothered.
At 6.30 pm yesterday, the building collapsed into a 20-feet high pile of steel and concrete, killing 45 people, 11 of who were children. 60 people have been injured. Mr Patil, a resident of the Shil Phata area where seven storeys of the building were constructed in less than two months, warns, "Thane has 100 more buildings like these, all illegally constructed. A 1000 people can die."
Mr Patil has copies of the letters he wrote to the Shiv Sena-controlled civic body, the first written on February 7 when construction had just begun. He alleges that he barely got a hearing at the municipal office.
A month later he complained again, with more photos and then again on March 18. Mr Patil alleges that government officials are in cahoots with what he calls the builder lobby, and so looked the other way as yet another illegal building was built.
Officials said sub-standard material was used and admitted that the building had come up without requisite permissions and on forest land. It had no occupancy certificate, but there were people living in it, tuition classes were run on some floors and it even housed small shops. An eighth floor was being constructed, which is not allowed in the area.
No architect or structural engineer worked on the building," Maharashtra's labour minster admitted. Vasant Davakre, a leader of the ruling Nationalist Congress Party, said "there are many illegal buildings in Thane."
If everyone knows that, how was a building that was being constructed in flagrant violation of all law not spotted as it rose? Even after many complaints were registered? Officials do not answer that, but Thane's mayor, Harischandra Patil, who heads the municipal corporation, now promises action against the builders. "They should be hanged," he said today.
His party, the Shiv Sena, admitted that there had been lapses on the part of the municipal corporation it controls, but also passed most of the blame on to the NCP, saying its area MLA Jitendra Ahwad should have complained.
A case of culpable homicide not amounting to murder has been registered against the two builders, Jamil Qureshi and Salim Shaikh, who have promptly gone underground.