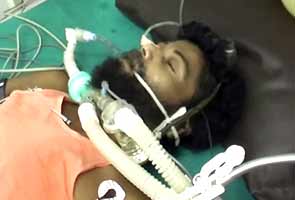 Dehradun:
As the Government and social activist Anna Hazare continue their war of words, Swami Nigmananda, who had been fasting for almost four months to protest illegal mining and stone crushing along the Ganga near Haridwar died at the Himalayan hospital in Jollygrant in Dehradun on Monday.
The 34-year-old swami died at the same hospital where Ramdev was being treated until his discharge on Tuesday.
Swami Nigamananda had been on a fast since February 19 this year and was forcibly taken to a local hospital in Haridwar on April 27 when his condition worsened after days of fasting. He was later transferred to the Himalayan hospital in Jollygrant earlier this month after he went into a coma and subsequently died on Monday.
"The saint was fasting for the Ganga since the last many days. He laid down his life for the Ganga. I pay my tribute to Swami Nigamananda," Ramdev told reporters after he was discharged from the hospital.
Swami Nigamananda's followers have asked for a CBI probe into his death alleging that he was poisoned.