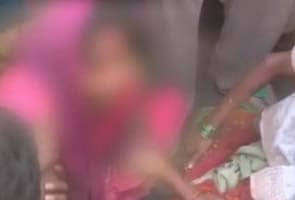 Aligarh:
A man who is accused of raping and murdering a six-year-old girl in Aligarh, was today found in the middle of a road in the city with his throat and wrists partially slit.
Locals who found him, called the cops. The policemen immediately rushed him to a hospital where he was given first aid.
The accused, Suman, reportedly told the police in his statement that he raped the girl and tried to commit suicide due to guilt.
The six-year-old's body was found in a garbage dump in Nagla Kalar area in the city on Thursday, which led to nearly 100 protesters gathering outside the Banna Devi Police Station in Aligarh and shouting slogans against the police.
Some of the protesters allegedly threw stones at the cops which made the policemen use batons on the crowd. The cops even attacked the girl's parents, dragging the mother on the ground. The three cops, including a circle officer, who were seen on camera manhandling the six-year-old's mother, were suspended.
But their senior, Aligarh's Senior Superintendent of Police (SSP) Amit Pathak, soon proved how pervasive insensitivity is in the force when he said, "How can you or we decide this? Did the girl's relatives see her being raped?" He was addressing a press conference on Thursday night. An autopsy report later confirmed that the child was sexually assaulted.
Aligarh is in Uttar Pradesh, about 330 km from capital Lucknow.