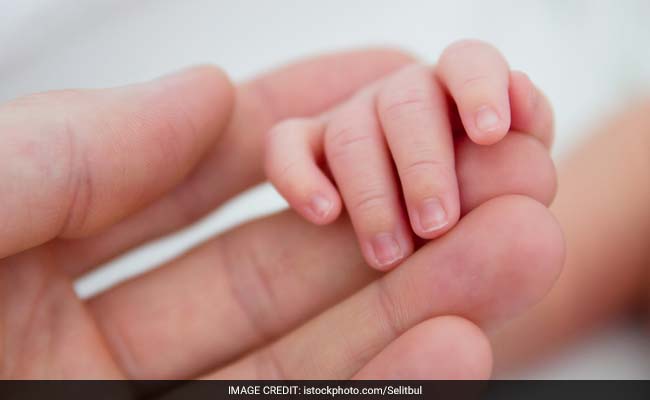 Mumbai:
A doctors in Maharashtra's Alibaug saved a newborn's life after he took the baby to a neonatal facility on his two-wheeler after the child had developed respiratory problems minutes after birth.
Alibaug resident Shweta Patil developed labour pains in the early hours of Friday and was taken to a nearby nursing home by her husband Ketan amid the COVID-19 lockdown.
For the couple, who had already lost their first child within hours of birth, getting the right care at the right time was crucial.
"Shweta is a diabetic, and she was immediately put on medication to keep her sugar level under control," Ketan said.
Considering Shweta's medical history, the local gynaecologist, who had delivered her first child, called in neonatologist and paediatrician Dr Rajendra Chandorkar for assistance.
A c-section was performed and a baby boy, weighing 3.1 kg, was delivered with normal parameters, Dr Chandorkar said.
However, the doctor's relief was short-lived when the newborn developed breathing problems and turned blue. "The diagnosis was transient tachypnea of newborn (TTN) and the baby needed neonatal care urgently," he said.
With no means of transportation available due to the lockdown, the newborn was taken to Dr Chandorkar's hospital, which was 1.5 km away, on the doctor's two-wheeler.
"I admitted the baby to the neonatal intensive care unit (NICU) and put him on oxygen support and his condition stabilised after 12 hours," he said.
"It was an overwhelming experience for me. The baby held on to my finger during examination and I just wanted to assure him that he was safe and will get well soon," he said.
The coronavirus outbreak and the subsequent lockdown has highlighted the risk taken by health workers who go above and beyond the call of duty to save a patient's life with limited resources at their disposal.
Speaking about medical facilities in Alibaug, a popular beach destination near Mumbai, Dr Chandorkar said there was a shortage of ventilators and critical patients are often shifted to Mumbai for advanced care.
World
Coronavirus has spread to 200 countries. The total confirmed cases worldwide are 64,26,70,742 and 66,33,197 have died; 59,19,00,673 are active cases and 4,41,36,872 have recovered as on November 30, 2022 at 9:10 am.
India
In India, there are 4,46,72,347 confirmed cases including 5,30,620 deaths. The number of active cases is 4,855 and 4,41,36,872 have recovered as on November 30, 2022 at 8:00 am.
State & District Details
State
Cases
Active
Recovered
Deaths

8135757 50

431

7986919 58

148407 1

Sri Potti Sriramulu Nell*

296

2339052 1

11

2324308 1

14733

4071235 73

1627 27

4029305 46

40303

259024 2

35

254976 7

4013

3594128 19

220

3555859 43

38049

6826175 57

1657

6753023 124

71495 3

1177729 3

11 1

1163573 2

14145

Jayashankar Bhupalapally

9

841085 9

55

836919 14

4111

1336439 12

94

1327141 13

9204

1054899 1

11 1

1044112

10776

1277437 6

198

1266196 12

11043

1315224 3

76

1305495 17

9653

1056513 5

39

1045760 7

10714

2128028 2

126

2104270 10

23632

2006947 12

30 8

1980399 4

26518

746099

0

738064

8035

44314

2

43813

499

851344 1

17

839025 4

12302

2118464 3

71

2096862 9

21531

North And Middle Andaman

1

10741

0

10612

129

175485

1

173509 1

1975

66889 2

2 2

66591

296

35986

0

35204

782

11591

0

11587

4

442567

9

437227 4

5331

108032

1

107091

940

29406 1

3

29172 3

231

479365 2

23

474557 5

4785

312567 3

22

308333 2

4212 1

Shahid Bhagat Singh Nagar (Nawanshahr)

99

784138 5

26

764823 6

19289

449289 2

36 1

441502 1

7751

139918 2

6

137763 4

2149

99337 1

7

98149 1

1181

96777 1

2

95151 1

1624

238951 1

6

238219 2

726

11415

0

11363

52