Noida:
Highlights
Due to his dress, many believe Yogi Adityanath is not modern: PM Modi
Braving Noida jinx makes him more modern than his predecessors, he added
He further said, "Faith is important but blind faith is not desirable"
Prime Minister Narendra Modi today heaped praise on Uttar Pradesh Chief Minister Yogi Adityanath after
launching Delhi Metro's new Magenta Line in Noida
and taking the first ride on it with him to Delhi. Yogi Adityanath braved the "Noida jinx" and that made him more modern by many of his predecessors despite his clothes, PM Modi said.
"Due to his dress, people find it fashionable to believe that Yogi Adityanath is not 'modern enough' but it is Yogi Adityanath
Ji
who has done what Chief Ministers of UP did not do - he has come to Noida. Faith is important but blind faith is not desirable,"
said the Prime Minister, addressing a rally in Noida after his 10-minute Metro ride
.
PM Modi said he made it a point to visit every place branded inauspicious. "When I became Chief Minister, people told me of a few places where no CMs went because they were inauspicious. I was clear...I would go to all those places in my first year itself. Driven by blind faith and superstition, leaders never went to places for decades. How unfortunate is that," he said.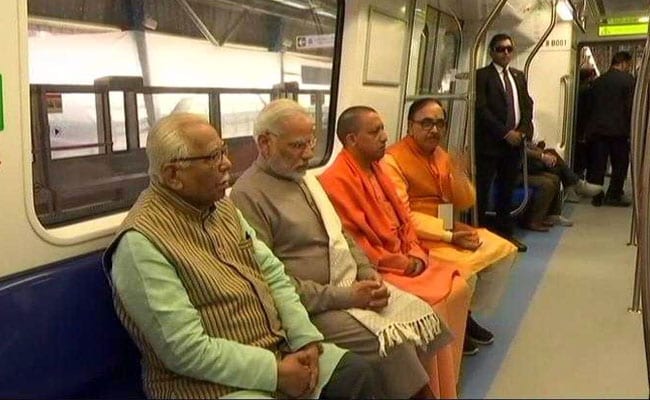 If anybody thought avoiding a place would prolong their rule and visiting a place would cut it short, such a person does not deserve to be chief minister, Mr Modi added.
Yogi Adityanath, 45, visited Noida on Saturday evening, defying the famous "'jinx" that has kept his predecessors away from the urban hub near Delhi- it is said whoever visits Noida loses power.
Former Chief Minister Mayawati was the only chief minister to have gone to Noida in 2011 to inaugurate a Rs.685-crore memorial park. The next year, she lost in the state election.
The next Chief Minister, Akhilesh Yadav, otherwise considered gen next politician, gave in to the decade-old superstition. Mr Yadav didn't visit Noida even once. That did not spare him defeat in the election this year that swept the BJP to power with a landslide win.
The "
Noida jinx
" dates back to the late 1980s. ND Tiwari and Veer Bahadur Singh were voted out within a month of visiting Noida. It is why Mulayam Singh, then Chief Minister, refused to visit the area in 2006 when it was reeling from the discovery of the bones and skulls of little children discovered in a drain in Nithari.
In 2002, Rajnath Singh, as Chief Minister, inaugurated a flyover linking Noida and Delhi - but ensured that he stayed on Delhi's side of the border.
Akhilesh Yadav, who was determined not to repeat Ms Mayawati's mistake, had even skipped two mega events in the town including the foundation stone-laying of a Delhi-Meerut Expressway that was attended by PM Modi. Mr Yadav, asked then why he avoided travelling to Noida, had promised to do so after his re-election. That never happened. His Samajwadi party was routed in the polls and Yogi Adityanath took over.
Get Breaking news, live coverage, and Latest News from India and around the world on NDTV.com. Catch all the Live TV action on NDTV 24x7 and NDTV India. Like us on Facebook or follow us on Twitter and Instagram for latest news and live news updates.