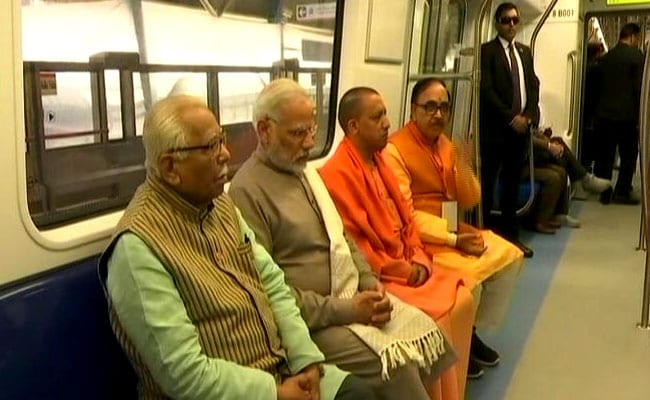 New Delhi:
Prime Minister Narendra Modi inaugurated the Magenta line, a 12.64-km stretch linking south Delhi's Kalkaji and Noida's Botanical Garden, in the national capital today. The Prime Minister will launch the new metro line from Noida and travel to Okhla Bird Sanctuary station. The Botanical Garden Station has been developed as the Metro's first-ever inter-change station outside Delhi. Once the entire corridor from Botanical Garden till Janakpuri West (38.23 km) is opened, commuters from Noida will be able to go to Gurgaon by changing trains at Hauz Khas.
Here are the live updates of the Magenta line launch:
"Visiting a place cannot ensure tenure for CM"
Making an indirect attack on Delhi Chief Minister Arvind Kejriwal, Prime Minister Narendra Modi said that visiting a place does not ensure a prolonged tenure for a chief minister if he/she does not deserve it. "If anybody thinks not going to a place will prolong their CM tenure and visiting a place will curtail it, such a person does not deserve to be a Chief Minister," PM Modi said. Arvind Kejriwal was not invited for the launch of the Magenta Line. Delhi's ruling Aam Aadmi Party accusing the centre of excluding Mr Kejriwal over "cheap politics". The 12.6-km section of the Magenta Line opened today connects south Delhi's Kalkaji and Noida's Botanical Garden.