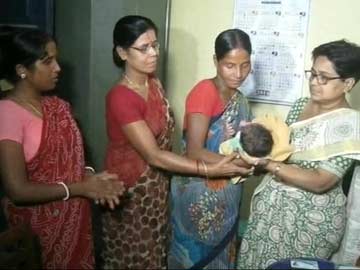 Jalpaiguri, West Bengal:
The woman in West Bengal's Jalpaiguri who had sold her new born son for 13,000 rupees last month has now taken him back. The infant was born on 24th May and sold to a childless couple on the 27th. After news of the baby being sold became public, the district administration tracked down the infant. But the mother had initially refused to take him back because she was too poor to care for him.
But now, encouraged by offers of help from ordinary citizens and the administration, Gouri Das has decided to take back her baby Rohit instead of giving him away for adoption.
On Tuesday evening, two weeks after she had sold him off, Rohit is finally back in his mother arms, handed over by the Child Welfare Committee (CWC) which was taking care of him. Gouri had put in a formal application saying she wanted him back.
Why did she change her mind? Mostly because of several offers of help from private citizens and the district administration. "I am already getting some help from the Siliguri Businessmen's Society. If I take the baby back, I might get some more help. So I am taking the baby back," said the 38-year-old mother.
Gouri was abandoned by her husband and she has three daughters. Her only income is from the alms that her mother gets from begging.
But child welfare authorities feel a baby's place is with its mother. "She made a written application that she wants the baby back and that she does not wish the baby to remain elsewhere and we are very happy to have been able to return the baby to his mother," said CWC member Sudip Chakraborty.
Some people have promised Gouri a regular supply of food. The district administration has promised to rebuild her ramshackle house. Promises Gouri hopes they will fulfil. That her son is back with her has given Gouri the will to at least put up a fight for a better life.
Get Breaking news, live coverage, and Latest News from India and around the world on NDTV.com. Catch all the Live TV action on NDTV 24x7 and NDTV India. Like us on Facebook or follow us on Twitter and Instagram for latest news and live news updates.