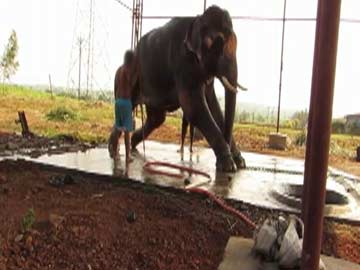 Mumbai:
The NGO, People for Ethical Treatment of Animals (PETA) has released a video of a 13-year-old temple elephant Sunder being tortured and beaten by his handlers in Kolhapur in Maharashtra.
Following the release of the video, several Bollywood celebrities came out in support of a campaign to release Sunder. The celebrities included Amitabh Bachchan, Madhuri Dixit, Madhavan, Raveena Tandon, Arjun Rampal, Sunny Leone, Amrita Rao, Kartik Murali, Vishal Dadlani, Ayushmann Khurrana, Dino Morea, Jacqueline Fernandez, Celina Jaitly and Yaami Gautam.
This is not the first time Sunder has found support among celebrities. In August last year, Beatles legend Sir Paul McCartney and Pamela Anderson of Baywatch fame wrote to the Maharashtra government to release him. The state forest department then passed orders to move him to a sanctuary from the temple where he was being kept at.
Instead, Sunder was moved to a tin shed where he continues to remain in chains. PETA has now moved the Bombay High Court, requesting the court to pass orders to quash his ownership certificate and direct the forest department to implement the order to release Sundar.
Dr Manilal V Valliyate of PETA told NDTV, "All the information and pictures we have collected related to the issue has been laid down in front of our honorable Forest Minister Shri Patangrao Kadam, on the basis of this he has put forth an order that the elephant must be transferred from Jyotiba to Bangalore's rehabilitation center immediately."
But the man who has been opposing Sunder's release insists he is fine. Vinay Kore, independent legislator from the area, says, "Ask them to show me such healthy elephants in Bangalore. This is a very big conspiracy against the people as PETA is spreading false rumours."
PETA alleges Sunder's mahout or handler would administer him tobacco, deny him food and water and even injured his eye using a sharp metal rod. His freedom from this nightmare now rests in the hands of the Bombay High Court.