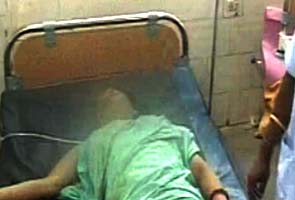 Cuttack:
A retired judicial magistrate, his wife and son were among four persons arrested on Wednesday on the charge of torturing their pregnant daughter-in-law and throwing her into a river with her hands and legs tied when she refused to abort her baby. The fourth person arrested allegedly masterminded the attack.
The woman had reportedly worked as a domestic help for the Bhubaneswar-based retired district judge, Sameer Ray for five years and had allegedly married his only son, Satyabrat. The marriage was reportedly never accepted by the family. According to the victim, she told the family that she was pregnant when they decided to fix Satyabrat's marriage with someone else. The family then allegedly hired goons to eliminate her.
"I have been love with him for last 5 years. I haven't had a baby so far but I am now pregnant. That's why they conspired to kill me. This poor girl wants justice," she said.
The arrests were made following the statement by the woman, who was admitted in the Intensive Care Unit (ICU) of the SCB Medical College Hospital, Cuttack Deputy Commissioner of Police (DCP) Pravin Kumar told reporters. Her condition is now stable.
The 23-year-old woman was found by morning walkers near the spur of Mahanadi barrage in Cuttack on Tuesday with wounds on her head and with her hands and legs tied with a rubber tube, according to the police.
The police have launched a manhunt to nab the goons, who allegedly took Rs. 3.5 lakh from the judge for the crime.
"Preliminary investigation reveals that she was working for more than 5 years as a maid...regarding the marriage, if any, it is under investigation. We have taken her statement and the police is investigating into all angles and during investigation we could gather there was a criminal conspiracy to eliminate her," DCP Pravin Kumat said.
However, some reports suggest that when she was working as a housemaid in the retired judge's house,she was allegedly sexually abused by his lawyer son. When the lawyer's family realised that she was pregnant, they asked her to terminate the pregnancy as they were unwilling to accept her as their possible daughter-in-law.
She said she was taken to a private hospital in Bhubaneswar on Sunday evening for terminating her pregnancy.
The clinic they approached reportedly refused to carry on the procedure after which they allegedly plotted to have her killed. As per the woman's statement, she had refused to go through with the abortion.
Police investigation found that she resided with the retired judge's family at Chandrasekharpur area of Bhubaneswar, which corroborates with the statement.
A medical examination of the judge's son has been done to check if he is the father of the unborn baby. Reports of the tests are awaited.