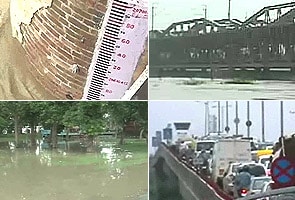 New Delhi:
The iron bridge over river Yamuna in Delhi has been closed once again as the river continued to flow above the danger level. This will affect rail traffic from Old Delhi Railway Station.
The water level has reached to 206.09 meters, more than a meter above the danger mark.
Flood threat loomed large over Delhi as neighbouring Haryana on Monday released 7.5 lakh cusec of water into Yamuna, the highest discharge in last 100 years on a single day.
Fearing a flood-like situation, Delhi government appealed to people living in low-lying areas to move to safer places and alerted concerned authorities to remain "extremely vigilant" in monitoring the situation.
Officials say the water level in Yamuna will keep on rising steadily for next two days.
Haryana had released a total of 6.53 lakh cusec of water into Yamuna on Sunday.
"The water level in the river may go up to 207 meters on Wednesday. We are constantly monitoring the situation and there is no reason to worry," officials said.
The state government has said all concerned agencies are fully prepared to meet with any eventualities.
The government on Monday shifted hundreds of people from Garhi Mandu, Usmanpur Pusta, Jagatpur Village and Shastri Nagar to relief camps. Over 3500 people shifted to relief camps set up by the government following flood-threat last week, are continuing to stay there.
Booster pumps have been installed in several areas along the river to pump out the water.
Officials, however, say there is no threat to the Games Village even if the water level rises further.
The water level in Yamuna had touched 206.78 meters on September 11 following huge discharge by Haryana, submerging several localities along the river.
In the last 40 years, the city had witnessed floods in 1967, 1971, 1975, 1976, 1978, 1988, 1995 and 1998 but the flood in 1978 was of serious nature as it had inundated areas in the city. The water level in Yamuna had touched 207.49 meter then, flooding vast areas in east Delhi.
Last month too, the Yamuna water level was above the danger level for several days, prompting authorities to shift a large number of people to relief camps. (With PTI Inputs)