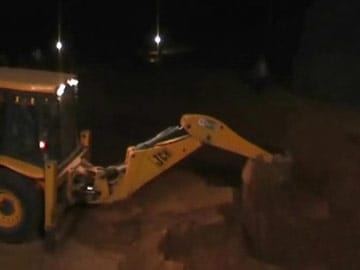 Jaipur:
The rescue operation to pull out body of a boy who fell into a 250-feet-deep borewell in Rajasthan's Churu district was called off after it could not be spotted despite efforts for over 50 hours, police said today.
"No sign of the boy was found despite all attempts. Cameras were lowered but they reflected images of water only. The body has gone into the water and it could not be spotted," SHO Sandwa Rajesh Kumar said.
Defence spokesperson Col S D Goswami said, "After a relentless search and rescue operation for 52 hours by the Army, the civil administration decided late last night to de-requisition Army for continuance of the operation."
The SHO said some villagers had lowered a pipe into the borewell last night with a hook but it also broke inside the borewell, making the situation worst.
"The operation was discontinued because the body could not be spotted despite so many attempts," he said.
Goswami said the Army party had left for Bikaner in the morning.
The boy, Radhe Shyam, fell into the borewell on Monday evening when he was trying to cross the over open shaft which was covered with a sack in Telap village.