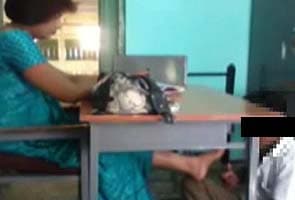 Akola, Maharashtra:
A teacher from a government school in Maharashtra has been suspended after a video emerged, showing her getting her feet massaged by one of her students.
Sheetal Awchar, who teaches at a school for the specially-abled in the Akola district, has been suspended after the shocking clip came to light. In the visuals, she is seen sitting at her desk while a student, hunched under it, is massaging her foot. (
Watch video
)
The video was reportedly shot on a mobile phone by a Class 7 student, 15 days ago. "The teacher comes to school and sleeps. She does not take any interest in teaching. She only makes us massage her feet," the student said in sign language.
His mother is proud of him. "My son has always been a good student but the problem is he was taught nothing at school. But now he has done something that a normal child would not have thought of doing," she said.
Ms Awchar had been accused by her students of routinely forcing them to massage her feet, instead of teaching. One of her students reportedly then asked a friend to take a video.
The district administration has suspended the teacher and ordered an inquiry into the incident.
The local politicians have also appealed to Chief Minister Prithviraj Chavan to ensure that the young student who shot the video gets some recognition for exposing the misconduct.