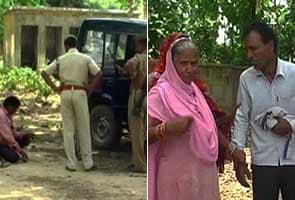 Lakhimpur Kheri (Uttar Pradesh):
In a shocking incident, a 14-year-old girl was allegedly raped and killed in a police station in Lakhimpur Kheri in Uttar Pradesh.
The victim, Sonam, according to her parents, Tarranum and Intezam Ali, allegedly went missing on Friday morning after she had taken the cattle for grazing. When she did not return till late afternoon, her mother went out looking for her and saw that her cattle had strayed near the police station.
She later found the girl's body next to a tree inside the police station compound.
According to her mother, the girl had injury marks on her body and was bleeding. The cops posted at the police station claim that the girl committed suicide, but her family has alleged that she was first raped and then murdered by the policemen.
"I have spoken to the SP and have come to know that the body was found hanging from a tree. The SP has already visited the location. A complaint has been registered against three people. We are looking into the matter very closely. The family has said it is a matter of murder and rape but we can't confirm yet," said Brij Lal, Special DG, Law and Order, Uttar Pradesh.
Eleven cops including the Station House Officer (SHO) have been suspended and the girl's body has been sent for an autopsy to confirm the cause of her death and the allegation that she was raped.
"It is a very sad incident that happened in the police premises. We will punish the guilty so that nobody repeats this shameful act again.We have dismissed 11 people," said DK Rai, SP, Lakhimpur Kheri.
The National Human Rights Commission (NHRC) has also decided to send a team to probe the case.
What's shocking is the fact that the police have not made any arrest yet. They are waiting for the autopsy report to confirm the cause of her death.