Chennai:
A court in Chennai today granted bail to three activists who were arrested in the city police for taking down hoardings of Chief Minister J Jayalalithaa put up by functionaries of the ruling AIADMK. Police had registered a case of destruction of public property against them.
They would be released on a personal bond for Rs 5,000 and a sureity for each. They are required to regularly sign at a police station till further orders.
Nakeeran, treasurer of the group Arappor to which they belong, said, "We are extremely delighted. But still there's plenty to be done and we shall ensure the illegal hoarding culture is ended."
The alleged illegal structures they pulled down were reportedly blocking pedestrian paths on December 31, the day the ruling AIADMK had its executive and general council meet in the city.
Many roads leading to the venue were dotted with hundreds of hoardings and cutouts of Chief Minister and AIADMK chief Jayalalithaa.
The three activists Jayaram Venketesan, Chandramohan and Akther Ahamad are all members of the anti-corruption group called Arappor.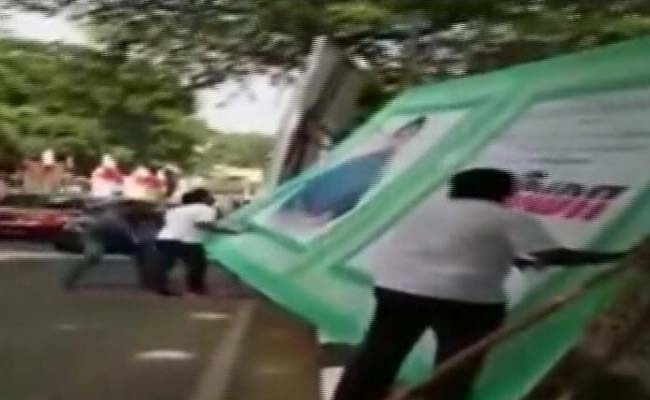 They say the police refused to register their complaint seeking removal of these hoardings endangering public safety.
In one case though, they add, an Inspector had accepted their complaint and acted but gave them just a community service register receipt without filing a First Information Report.
The Counsel for the accused argued that the men, all highly educated and returned from the US, had only symbolically protested by pulling down illegal hoardings that endangered public safety.
They, he added, are a well-intended pressure group who had even informed police of their plan to remove them if they failed to act.
He argued as individual citizens they have every right to remove a nuisance on the pedestrian's path.
Opposing bail, the Public Prosecutor argued their act was illegal as the hoardings were permitted by the district administration and that the men had taken up law into their own hands.
On Wednesday, in another related petition filed by another social Activist Traffic Ramasamy, the Chennai Collector was directed to furnish details of all approvals given for hoardings over the last one year.
She had earlier told the court that she had permitted 350 hoardings to be placed on December 31.
Activists allege the city had at least four thousand hoardings and cut outs that day and none of them had the mandatory permission number.