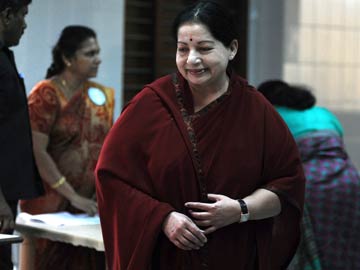 New Delhi: People in West Bengal and Tamil Nadu came out in huge numbers to vote in the sixth phase of Lok Sabha election today.

The voter turnout in both states was very high - 82 per cent in West Bengal and 73 per cent in Tamil Nadu.
Here are the latest facts about voting in Bengal and Tamil Nadu
While the voter turnout in West Bengal was the best across the country in this phase of elections, Tamil Nadu's record 73 per cent turnout was a little higher than 72.98 per cent in 2009.
Poll officials said that despite the temperature touching 40 degrees Celsius in West Bengal, people patiently stood in the queues since 7 am.
The Election Commission, however, removed presiding officers of three booths in Murshidabad district for allowing "illegal entry" to Trinamool Congress candidate from Jangipur Haji Nurul Islam, an official said.
In Tamil Nadu, which voted for all 39 parliamentary seats today, the polling the was largely trouble-free. Chief Minister J Jayalalithaa's AIADMK is forecast by opinion polls to significantly improve upon the nine seats it currently holds.
In West Bengal, chief minister Mamata Banerjee's Trinamool Congress is expected to win the most seats - she currently holds 19 of Bengal's 42 seats.
The voting took place in 11 states and the Union Territory of Puducherry today. 117 parliamentary seats went to poll today.
The city of Mumbai, which too voted today, registered an impressive voter turnout of 52 per cent, an increase of 11 per cent from 2009. (Read more)

#GetInked trended high in Mumbai on Twitter. #mumbaivotes topped the India Trends list. But for a large portion of the day it seemed that Maximum City would be unable to improve on the 41.5% voter turnout per cent in 2009.
In the end, Mumbai North Central and Mumbai South Central saw 55% voting, and in a late surge, union minister Milind Deora's Mumbai South registered a 54% turnout after lagging through the day. Mumbai North-West was the lowest at 50%.
Among the heavyweights whose future was sealed in the Electronic Voting Machines (EVMs) are Sushma Swaraj, the senior BJP leader who is running from Vidisha in Madhya Pradesh, former union ministers A Raja and Dayanidhi Maran who are contesting elections in Tamil Nadu, and Dimple Yadav, whose husband Akhilesh is the Chief Minister of Uttar Pradesh.