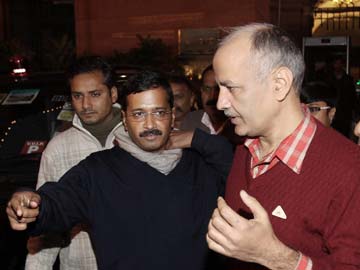 New Delhi:
Arvind Kejriwal met Home Minister Sushil Kumar Shinde amid controversy over a strongly worded warning that his government has issued to the Delhi Police, after it refused to suspend three cops on the chief minister's demand. Mr Kejriwal and other AAP ministers say they'll sit on 'dharna' outside the Home Minister's office from Monday if their demand for suspending the cops isn't met.
Here are the 10 big developments in this story:
Aam Aadmi Party minister Manish Sisodia said the Home Minister has promised to consider their request and would convey his decision in few days. "At least the police stations in the NDMC area should come under us, if the Centre wants to retain overall control," Mr Sisodia said. The Delhi Police reports to the Lieutenant Governor.

A few hours ago Mr Sisodia had issued a strongly worded warning, saying, "This is not the Sheila Dikshit government. We are being accused of vigilantism, but we are a different government. Whether the police come under us or not, we will demand action. If the police don't fall in line, we'll fix them." (Watch)


Arvind Kejriwal sought an appointment with Mr Shinde after Delhi Police Commissioner BS Bassi, at a meeting with Delhi Lieutenant Governor Najeeb Jung, told the CM today that he would not suspend cops who the state government says refused to act on complaints by its ministers. Mr Bassi was also present at the meeting at the North Block office of Mr Shinde

The AAP government wants action against a policeman who had a public altercation late on Tuesday night with Delhi Law Minister Somnath Bharti, who had sought immediate action against people he alleged were sex and drug racketeers.


It also wants two other cops suspended. One of them had a similar showdown with another AAP minister Rakhi Birla. The other is the Station House Officer of Paharganj; a Danish national was gang-raped in the area on Tuesday evening. Mr Kejriwal has blamed the police. (Amid anger over Danish woman's gang-rape, Arvind Kejriwal blames Delhi Police)


Mr Bassi reportedly told Mr Kejriwal this morning that the policeman was merely following procedure and it was Minister Somnath Bharti who broke the law. Mr Bharti and Ms Birla have been accused of vigilantism. They accompanied Mr Kejriwal when he met Mr Shinde.(Delhi police chief rejects Kejriwal's demand for suspension)

Mr Sisodia rejected the police plea that it cannot make arrests on the spot on demand and needs warrants to do so. "The police enter poor people's homes as and when they want, without warrants. But refuse to act against a sex and drug racket. People in that neighbourhood complained many times," he said at a press conference.

Mr Bharti has been accused of a racist slur in a complaint to the National Human Rights Commission after six African women alleged that they were abused in public and were held for several hours at a police station on the suspicion that they were involved in a sex and drugs racket.

One of them, a Ugandan national, told NDTV that she was beaten by "men not in uniform." Mr Sisodia has denied reports that the woman was beaten up by AAP workers. (Beaten by men not in uniform, claims Ugandan woman)

Mr Kejriwal's predecessor Sheila Dikshit too had repeatedly said her government's efforts to ensure a safe Delhi were hampered by lack of control over policing. Mr Kejriwal had then criticised her.
Post a comment