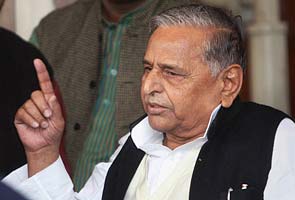 New Delhi: A proposal to reserve promotion in government jobs for Dalits and tribals has not been cleared by Parliament in this winter session, which ended today. The bill has been championed by Mayawati, who heads the Bahujan Samaj Party (BSP). She accused the government of letting her down today, arguing that it is not serious about delivering the new law.
Here are the top 10 developments in the story:
While the "Quota Bill" has been demanded by Mayawati, it is fiercely opposed by her political rival from Uttar Pradesh, Mulayam Singh Yadav. His Samajwadi Party represents mainly the Yadav caste, many of whom are lower middle class, along with poor Muslims, who will not benefit from the promotions quota bill.
Both Mayawati and Mulayam are essential for the survival of the fragile ruling coalition. Both do not participate in the government but provide external support, rescuing the government in important votes in Parliament.
The quota bill was cleared on Monday in the Rajya Sabha by a huge majority; only 10 MPs, including nine from the Samajwadi Party, voted against it.
But the BJP, which voted for the bill in the Upper House, is now divided over the proposal. While the party said the version of the bill does not have amendments it had requested, sources say that some leaders from Uttar Pradesh worry that affirmative action for Scheduled Castes and Tribes will anger the party's upper caste vote bank.
Yesterday, a Samajwadi Party member grabbed the bill from union minister V Narayasamy as he introduced it in the Lok Sabha. Another member from Mulayam's party ripped it apart, causing huge commotion. The House was adjourned.
Today, the Lok Sabha was adjourned repeatedly on the last day of its session because of chaos caused by the Samajwadi Party and the BJP. Mulayam's MPs shouted slogans against the bill; senior BJP leader LK Advani who tried to speak in the House could not proceed. Angry parliamentarians from the BJP then shouted, "Insults to the opposition will not be tolerated."
Mayawati and her party MPs from the Rajya Sabha were present in the gallery to watch the proceedings. A few weeks ago, Mayawati supported the government in a vote on its contentious decision to allow foreign supermarkets into India. In return, she asked that the quota bill be cleared urgently.
We will try to get the bill passed in the next session of Parliament," said Home Minister Sushil Kumar Shinde.
Mayawati has demanded a special session of Parliament to pass the bill before then. That appears unlikely.
The government will need the support of Mayawati and Mulayam to push through economic reforms that include allowing more foreign investment in the pension and insurance sectors.
(With inputs from agencies)