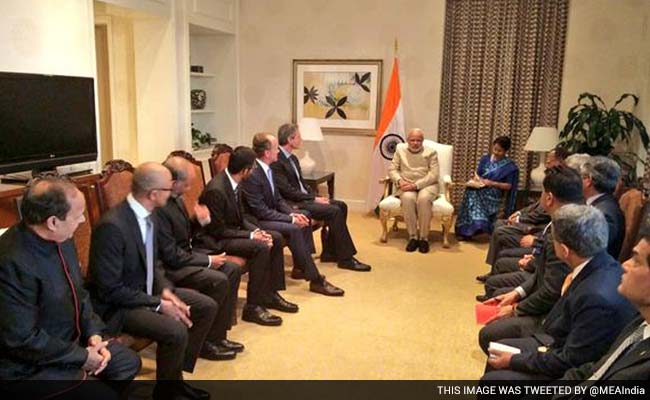 San Jose, California:
Prime Minister Narendra Modi's digital India dream got the thumbs up from leaders of global tech firms like Apple, Google, Microsoft and Qualcomm when he met them at the Silicon Valley today.
Here are the five top announcements from the Digital India dinner:
Sundar Pichai-led Google will help bring wireless Internet or WiFi to 500 railway stations across the country "in a short time," PM Modi said.

Microsoft's Satya Nadella shared the company's plan to help the government take low cost broadband to five lakh villages.

Microsoft will also announce next week the availability of its cloud services operating out of Indian data centers. "We believe low cost broadband connectivity coupled with the scale of cloud computing and the intelligence that can be harnessed from data can help drive creativity, efficiency and productivity across governments and businesses of all size. This is turn will create global opportunities for India," Mr Nadella said.

Qualcomm has promised a 10 billion rupee fund for startups in India. "We share Prime Minister Narendra Modi's vision to transform India into a digitally empowered society and knowledge economy," Qualcomm executive chairman Paul E Jacobs said.

Qualcomm also announced that it will set up a number of 'design houses' for product innovation in India.
Post a comment