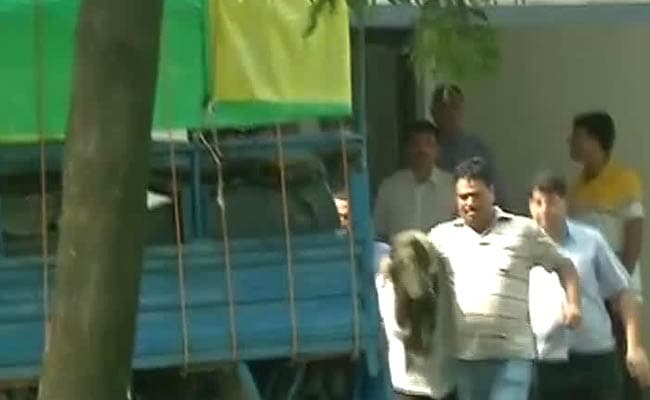 Jammu:
Mohammad Naved, the Pakistani terrorist captured yesterday after an attack on a security convoy in Jammu and Kashmir's Udhampur, has claimed that he did not know his partner and they entered India in separate groups. Naved was questioned through the night and much of today before being handed over to central agencies.
Sources say he has claimed that he and the other terrorist involved in the Udhampur attack did not know each other; they infiltrated with different groups.

In sustained interrogation Naved has revealed that he entered Jammu and Kashmir about a month and a half back, during Ramzan, through Tangdhar in the Kashmir Valley.

Naved met his accomplice Noman in Baramulla, he has told his interrogators. They both trained with the Pakistan-based Lashkar-e-Taiba. Interrogators say Naved told them he had taken "three types of training" before being given his task - a 21-day religious course, a 21-day basic and three-month advanced combat course.

The 22-year-old terrorist has told interrogators that he had orders to kill security personnel.

While hiding in the Kashmir Valley for over a month, Naved and Noman allegedly procured weapons. The police are trying to find out who they got the weapons from.

Naved's interrogators say that he is an extremely hardened terrorist who has constantly changed his statements. He was smiling almost constantly.

The terrorist has given various names since his capture - Qasim, Usman and then Naved. Sources say he has now gone back to Qasim. He also claimed earlier that he was a teenager, before amending it to 22.

The one point that he has maintained consistently is that he is from Faisalabad in Pakistan, and he has two brothers - a lecturer and a salesman - and a sister.

Naved and his companion traveled from the Kashmir Valley to Udhampur by truck, say sources. He has reportedly told interrogators that he received orders on Tuesday to target military convoys on a part of the highway south of the Banihal tunnel.

Naved was caught hours after he and his companion, Noman, attacked a Border Security Force (BSF) convoy on a highway near Udhampur, killing two soldiers. He was overpowered by three unarmed villagers he had taken hostage.