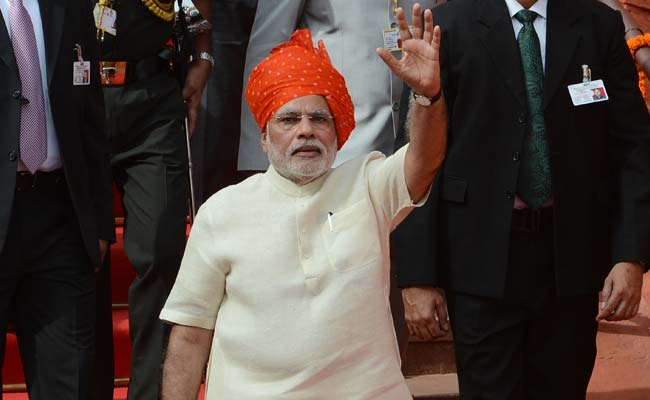 New Delhi:
Prime Minister Narendra Modi today addressed the nation from the Red Fort in his first Independence Day speech. He spoke extempore, without a bullet-proof glass giving him cover.
10 things that PM Modi said in his speech
To all Indians celebrating our Independence Day, greetings from the Pradhan Sevak. I stand before you not as Pradhan Mantri (Prime Minister) but Pradhan Sevak (Prime servant)

It is a tribute to Indian democracy that a person from a poor family, an ordinary family, is today addressing the nation from the Red Fort.

I tell the world - Come, Make In India. Sell anywhere but manufacture here. We have the skill and talent.

All previous governments have a hand in developing India. State governments have a hand in it as well. I offer my respect to all previous governments and Prime Ministers.

We want to move forward not on the basis of our majority but on consensus.The session that just ended reflects our thinking. We don't believe in the force of majority. We worked with everyone. The credit for this goes not to the PM but the MPs and the opposition.

I am an outsider to Delhi. But an outsider came to Delhi and got an insider view. I was surprised. It was as if in one government there were different governments.

We have seen instances of communal violence for too long. Till when will this go on? Be it caste or communal violence, they stall the growth of the nation.

Have we seen our sex ratio? Who is creating this imbalance? Not God. I appeal to the doctors not to kill the girl child in the mother's womb. I request the parents not to kill daughters because they want a son. Don't kill daughters in the womb, it is a blot on 21st century India. I have seen families where one daughter serves parents better than five sons.


The world used to think we are a land of snake charmers and black magic. But our youth has surprised the world with its IT skills.


Our heads hang in shame when we hear about rapes. Parents ask about daughters but did anyone dare ask their sons. After all, the rapist is someone's son. As parents, have we asked our sons where he is going? Why not put same yardstick for sons too?