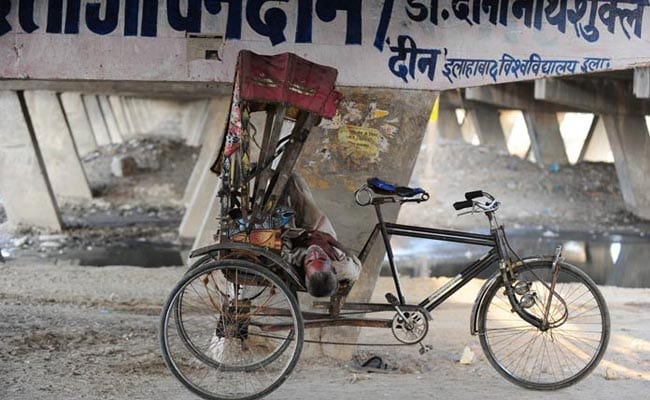 Highlights
The temperature in Delhi touched 41 degrees Celsius
Hottest April in 5 years, it will only get worse, predicts Met department
Water storage in 91 major reservoirs at a 10-year low, says government
New Delhi:
Nearly 70 people have died in the last week in Odisha and Telangana as a heat wave swept the country. It's the hottest April in five years, says the Met department, and predicts that it will get worse as the summer deepens.
Here are the latest updates:
The severe drought and acute water shortage across the country has added to worries about a difficult summer.

The government has said that the water storage in 91 major water reservoirs in the country has dipped to a 10-year low of about 23 per cent.

The maximum temperature in Delhi today was recorded at 41 degrees Celsius, four notches above normal, a met department official said.

The heatwave has started to grip parts of peninsular India including Telangana, Andhra Pradesh, Maharashtra's Marathwada and Vidarbha and isolated pockets of Karnataka.

In Odisha, the temperature has shot up to over 40 degrees Celsius in many places. State capital Bhubaneswar has already touched 45 degrees this week and schools have been asked to remain closed till April 20.

The Telangana government has issued a heat wave warning for Thursday and Friday in capital city Hyderabad and several other places. 35 people have died in Telangana due to heat since last few days.

Skymet, a private weather forecasting agency, has said there is also likely to be a gradual increase of one to three degrees in temperature over the next two days across Delhi, Rajasthan, Punjab, Haryana, Gujarat, Uttar Pradesh and Madhya Pradesh, news agency Press Trust of India reported.

In Karnataka, the first state to declare drought this year, at least 500 villages are now completely dependent on water supplied by tankers as there is no supply.

Maharashta's parched Latur is now relying on lakhs of litres of waters being brought by special trains that the state government is running.

On Wednesday, the Bombay High Court ordered 13 matches of the Indian Premier League (IPL) cricket tournament to be shifted out of Maharashtra due to the severe water shortage in the state.