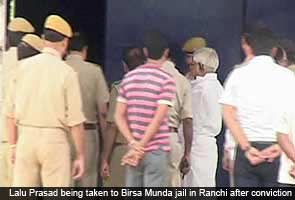 Ranchi, Jharkhand:
Lalu Prasad has been jailed in Ranchi after a court this morning found him guilty of corruption when he was chief minister of Bihar. The conviction means he is disqualified as a member of parliament, according to a recent Supreme Court judgement.
Here are the 10 big developments on this story:
Lalu, 66, faces a maximum of seven years in prison, and will be sentenced on Thursday through video conferencing. He was moved from the court-room to a prison.

He has been found guilty of misusing Rs 37 crore when he was chief minister 17 years ago. The case is related to a larger scam which saw hundreds of crores being used to pay fictitious bills for medicines and fodder for cattle. (Lalu Prasad's conviction set to change political math, can RJD recover?)

Along with Lalu, 44 others were convicted today. They include former chief minister and Congress leader Jagannath Mishra, two members of the ruling Janata Dal United, and four IAS officers. (Lalu Prasad found guilty in fodder scam: who said what)

"We will appeal in higher courts, we have faith in the legal system," said Lalu Prasad's 23-year-old son Tejaswi, who accompanied him from Patna to Ranchi and is seen by some as a possible successor.

"We will also go to the court of the people. The powers conspiring against us to trap our leader will get a fitting reply in the coming elections," Tejaswi Yadav said.(Will appeal in 'court of the people', says Lalu's son)

The Supreme Court in July ruled that any MP convicted in a criminal case would have to quit office till his or her appeal is decided by a higher court.


The BJP had alleged last week that the Congress tried to use its special constitutional powers to hurriedly introduce an ordinance to protect Lalu, a loyal ally of the Congress. His party has four Lok Sabha MPs.

However, on Friday, Congress vice-president, Rahul Gandhi, in a surprise attack, dismissed the ordinance as "complete nonsense" and said it should be "torn up and thrown away." That censure was seen as a public and damaging undermining of the Prime Minister by Mr Gandhi, whose mother, Sonia, heads the party.

Mr Gandhi's stand means the government has virtually abandoned the ordinance, which allows convicted MPs to remain in office while their appeal is decided, but without a salary and voting rights.

Lalu had to resign as chief minister in 1997 after being charged in the scam; he made his wife, Rabri Devi, the chief minister. In the 2005 election, he lost Bihar to Nitish Kumar of the Janata Dal (United) who has been in power ever since.
Post a comment