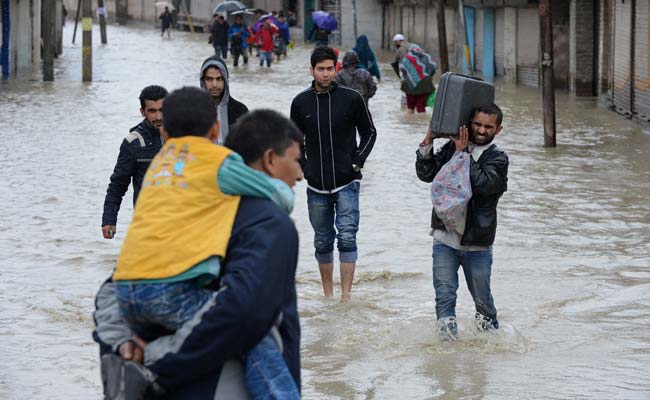 Srinagar:
Nearly 150 have died in Jammu and Kashmir which is witnessing its worst flood in 50 years. The Army has launched a major rescue operation and evacuated 11,000 people to safety by deploying 100 columns of troops in flood-hit areas of the state. Prime Minister Narendra Modi reached Jammu today and
held a review meeting
to assess the flood situation. He assured the state government of central assistance.
Here are the latest developments in this story:
Srinagar is the worst affected as river Jhelum has breached embankments in several parts of the city. Major parts of the city, including the Army Cantonment area, is submerged.

The ground floor of a government children's hospital in the heart of the city is flooded and is facing a blackout. Many people have fled Srinagar to safer areas, others have moved to upper stories of their houses and rooftops and are making desperate calls for help.

The Air Force is assisting the Army in rescuing the stranded people. Air Force choppers airlifted 108 BSF and Armymen from forward Border Outposts on Saturday as floods badly hit security infrastructure along the Indo-Pak border.

According to the Army, the situation in the state is as grim as it was in Uttrakhand last year.

Chief Minister Omar Abdullah said today, "There is some improvement in Jammu but the situation is worsening in Kashmir, especially Srinagar. Our priority is to save people and I have spoken to the Cabinet Secretary about boats and rescue teams. We've been assured that 40-50 boats will be sent to Srinagar. Choppers are ready, planes are also on stand by." Meanwhile, Haj flights scheduled up to September 12 have been postponed. (We Will Reach You: Omar Abdullah to Flood Victims)


A boat carrying nine Army jawans capsized on Saturday during rescue operation in Pulwama. Seven personnel were rescued, while two others are still missing. (Kashmir Floods: Search For Missing Soldiers Continues)


Home Minister Rajnath Singh conducted an aerial survey of the affected areas on Saturday. He also held a meeting with Chief Minister Omar Abdullah who later drove him through Srinagar city. "I want to assure the people of Jammu and Kashmir that central government is with the state government, and we will provide all help possible," the Home Minister said.

The southwest monsoon is vigorous over Jammu and Kashmir, the weather department has said that the situation is likely to improve from tomorrow. A control room has been set up at Ramban district headquarters and all Sub-Divisional Magistrates and Tehsildars have been asked not to leave their headquarters.

The flood has affected almost all 10 districts in the Jammu region. Landslides triggered by heavy rainfall have damaged roads, dozens of bridges, buildings and crops. Vehicular traffic has been stopped on the Jammu-Pathankot highway. The state government has also closed all schools till September 7.

Authorities continue to sound high flood alert as most of the rivers in the state are flowing above the danger mark due to incessant rains since the night of September 2.