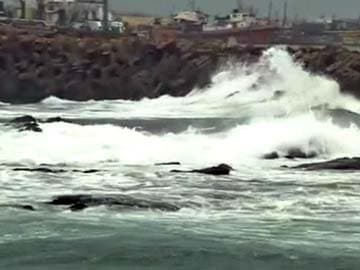 Hyderabad:
Cyclone Hudhud has strengthened and is now classified as a "very severe cyclonic storm." It is expected to bring heavy rain and gusting winds as it comes closer to the coast of Andhra Pradesh and Odisha and then makes landfall on the forenoon of Sunday.
Here are the 10 latest developments in this story:
The Odisha government has asked the collectors of Malkangiri, Koraput, Nabarangpur, Rayagada, Gajapati, Ganjam, Kalahandi and Kandhamal to carefully assess and evacuate the people likely to be affected by the cyclone.

Heavy rain is expected in some districts of Odisha and Andhra Pradesh. Extremely heavy rain is likely over East Godavari, Visakhapatnam, Vizianagaram, and Srikakulam districts of north coastal Andhra Pradesh from tomorrow evening onwards.

"Flood is our bigger worry right now as heavy rain is expected in our district," said the Ganjam collector Prem C Chaudhary, adding that they are ready with a full contingency plan.

Home Minister Rajnath Singh discussed preparedness this morning with the chief ministers of the two states and also that of Telangana and offered the Centre's help. Odisha Chief Minister Naveen Patnaik has asked for additional satellite phones as the telecom network is expected to be affected when the cyclone hits the coast.

The Met department warns that heavy rainfall and strong winds are likely to disrupt electricity and telecommunications services, and road and rail traffic. It has warned of flooding and storm surges up to two metres (6.5 feet) in low-lying areas.

Cyclone Hudhud, named for a bird, is expected to make landfall south of the port city of Visakhapatnam in Andhra Pradesh in the forenoon of Sunday, October 12, packing wind speeds of up to 140 kph (87 mph).

In Andhra Pradesh, 50 villages in have been identified for evacuation in Visakhapatnam, to begin tomorrow morning. The Army is on stand by for relief and rescue operation and has moved extra forces. The Navy is also on alert and has several teams of divers, medical teams, two ships, four helicopters and two fixed wing aircraft on stand by.

Off the coasts of Paradip, Vizag and Gopalpur, Coast Guard ships are on a sanitization drive and are helping fishermen get back to coast before the cyclone makes landfall. Coast Guard's Dornier aircrafts and Chetak helicopters are stationed at Chennai and Kolkata.


Thousands of members of the National and State Disaster Response Forces, and the fire services, are being sent to coastal areas to prepare for search and rescue operations and assist with evacuations.

A year ago, a severe cyclone called Phailin battered the same region, also on October 12. Strong disaster preparedness, including the evacuation of nearly one million people to cyclone shelters, helped save the day.
Post a comment