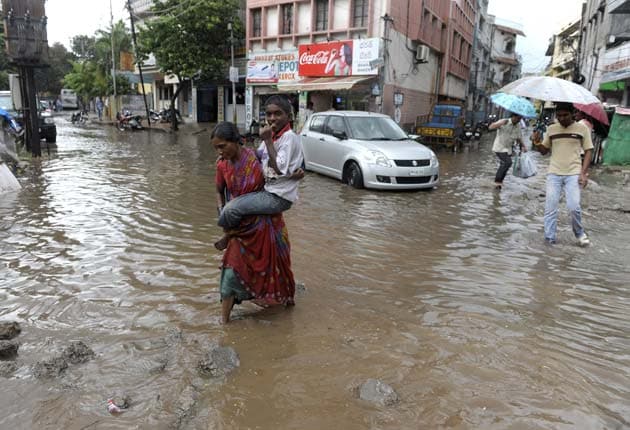 Bhubaneswar: The cyclonic storm "Phailin" which hit the Andaman and Nicobar Islands on Wednesday has intensified and is heading towards coastal Odisha and Andhra Pradesh where it is expected to hit on Saturday night.

Here are the 10 big developments in this story:
Experts describe the storm as "very severe" with a wind speed that will touch 175-185 kms per hour.
A high alert has been declared for all nine coastal districts of Andhra Pradesh. Evacuation plans are being worked out. (Track Live Updates)

The National Disaster Management Authority's head, M. Sasidhar Reddy, has said that Phailin has been categorised as a severe cyclone (only super cylcones are considered more powerful), its impact will be felt on the entire coast.
The Andhra Pradesh government says it has asked the navy, army and air force that their assistance may be required for emergency and relief operations.
"The system would intensify into a severe cyclonic storm during the next 12 hours. It would continue to move northwestwards and cross north Andhra Pradesh and Odisha coast by the night of October 12," said the Met department.
In the wake of the cyclone alert, thousands of power sector employees from the Seemandhra region of Andhra Pradesh, who were on strike to protest against the Centre's decision to split the state, have decided to return to work, for now. The employees have agreed to start work from 6 am tomorrow but have warned that their strike is not over. (Seemandhra power strike ends - temporarily, warn unions)

The breakthrough came reportedly after the workers held yet another round of talks with Chief Minister Kiran Kumar Reddy today after three failed attempts.
The decision comes as a respite for residents of Seemandhra who have been facing acute power shortage for six days in a row.
The Visakhapatnam Cyclone Warning Centre has forecast heavy rainfall, and warned fishermen against venturing into sea.
A super-cyclone had struck 14 coastal districts of Odisha in October 1999. Nearly 10,000 people were killed as winds raging at 300 kms per hour tore through the coast.