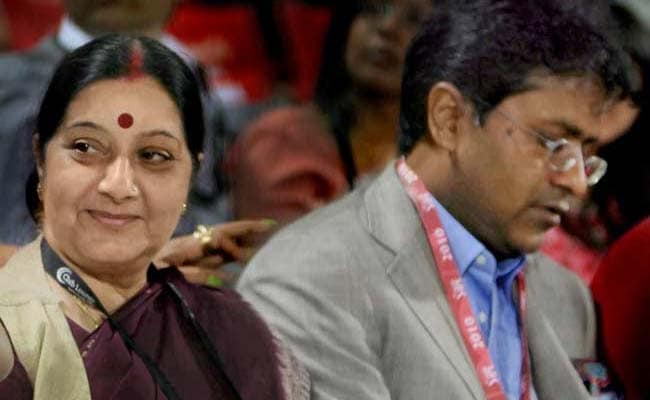 New Delhi:
As the ruling BJP confronts a raging controversy over Foreign Minister Sushma Swaraj helping former IPL boss Lalit Modi obtain British travel papers in July last year when his passport was held by Indian authorities, a dinner at a London hotel has raised new questions for the party.
Here are 10 developments in the story:
Responding to reports that Sushma Swaraj met Lalit Modi at London's Bentley hotel last October, sources close to her confirmed that she did meet him at a "small, private dinner for 15" but not individually.

The owner of Bentley hotel, Joginder Sanger, has however told NDTV that there were only 12 people at this dinner, including his own five-member family and Sushma Swaraj and her aide. Besides another family, the only other guest was Lalit Modi.

The Congress has questioned why Sushma Swaraj was at a social event with a man wanted in India over corruption allegations.

Lalit Modi has been in the UK since 2010, when the previous UPA government started investigating allegations of financial irregularities in the multibillion dollar IPL or Indian Premier League that he founded. His passport was cancelled by the government but restored in August last year by the Delhi High Court.

The finance ministry is in favour of challenging Lalit Modi's passport but the foreign ministry is yet to file an appeal. Former union minister P Chidambaram said Sushma Swaraj must explain why she did not ask Lalit Modi to apply to the Indian embassy for travel documents, instead of helping him with UK papers.

The BJP has stoutly defended Sushma Swaraj, who has cited "humanitarian grounds" for helping Lalit Modi with UK travel documents, saying he needed to be in Portugal for his wife's cancer surgery.

But it is quite a different story for Rajasthan Chief Minister Vasundhara Raje, who has also been dragged into the row by Lalit Modi. Sources say the BJP has asked its leaders not to defend Vasundhara Raje or speak for her "till facts are ascertained."

Vasundhara Raje phoned party chief Amit Shah on Wednesday after documents released by Lalit Modi's PR team showed that she had agreed to be a secret witness for the controversial former IPL chief's immigration application to the UK. Ms Raje reportedly told Mr Shah that there was no wrongdoing, but sources say the party is not entirely convinced by her explanation.

Speaking to NDTV, BJP's Rajya Sabha MP Chandan Mitra said Ms Raje needed to clarify. "Obviously, she knows how to handle these things. So let her clarify. Once we have the facts, we will speak on it," he said.

A company run by Vasundhara Raje's son Dushyant Singh also allegedly received a loan of Rs 11.6 crore from Lalit Modi's firm. The Enforcement Directorate has summoned two of Mr Modi's former directors for questioning.
Post a comment