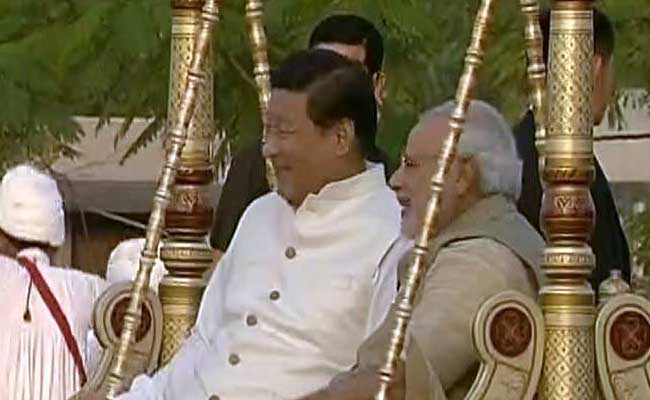 Ahmedabad:
Chinese president Xi Jinping arrived to a grand welcome in Prime Minister Narendra Modi's Gujarat today for a three-day India visit aimed at resetting ties and ramping up trade between the Asian rivals. His visit comes in the middle of an intense stare-down at the contested border between the two countries, with three recent transgressions by Chinese troops.
Here are the latest developments:
PM Modi, who celebrates his 64th birthday today, greeted President Xi with flowers and a warm handshake. The two leaders strolled down a decked-up Sabarmati riverfront, and sat on a swing that swayed in the light breeze as dancers and performers put up a show.


Earlier, President Xi paid tribute to Mahatma Gandhi at the Sabarmati Ashram, and sat barefoot to work a spinning wheel or charkha.


But away from the bonhomie in Gujarat, fresh transgression by Chinese troops into Indian territory has intensified an ongoing border standoff. More than 200 Chinese soldiers entered disputed territory at the Chumur sector earlier this week and set about building a 2-km road.


This morning, Indian troops rushed to a site about 2 km away, where more Chinese soldiers were seen. Around 300 Chinese soldiers are now at the two sites.


India took a strong stand at a flag meeting initiated by China on Tuesday and said it would firmly defend its 3,500-km border with the country. The meeting was inconclusive.

Perhaps to divert focus from Chumur, the Chinese objected to an irrigation canal being built at Demchock about 80 km away and sent hundreds of civilians to protest the work being done by Indian civilians. The standoff at Demchock, unusually, is now between Indian and Chinese civilians.

India has also refused to sign a liberalized visa pact with China; it is likely to convey its strong objection to China issuing stapled visas to Indians from Arunachal Pradesh. Last week, Foreign Minister Sushma Swaraj had said, "If we believe in One China policy, they should believe in One India policy."


In Gujarat today, the two countries signed pacts including a sister-city agreement between Ahmedabad and Guangdong city. Late on Wednesday, President Xi flew to Delhi. This is the first visit to India by a Chinese president since 2006.

President Xi has brought along with him a business delegation of 135 Chinese CEOs. India is expected to raise concerns over widening trade deficit during talks in Delhi.


China is likely to pledge 100 billion dollars for upgrading railways and for industrial parks, power generation and smart cities in India.