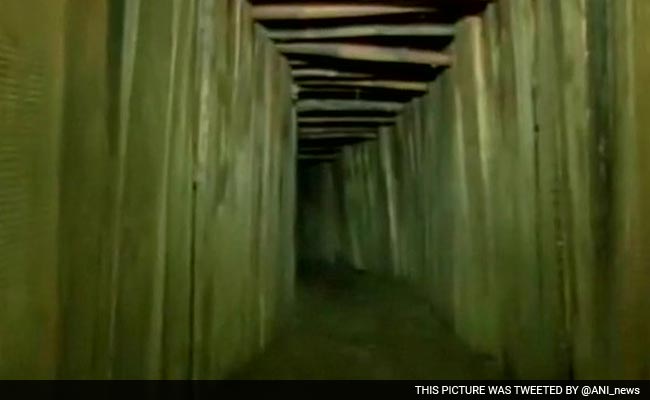 Straight out of a movie plot, soldiers who were clearing an area in Jammu and Kashmir of wild grass stumbled upon a 30-foot secret tunnel running through the International Border. The Border Security Force or BSF says the tunnel was dug for a major terror attack.
Here are latest developments:
The tunnel, which is 10 feet deep, was found on Thursday, concealed under elephant grass at Jammu's RS Pura sector near a post called Allah Mai De Kothey.

The tunnel was right below the border fence put up to prevent infiltration into Indian territory.

"It appears that a big terrorist attack was being planned after infiltration through this tunnel in the near future," said senior BSF officer Rakesh Sharma.

The BSF has recorded its protest with Pakistan and says it has evidence on which it expects action.

"We've requested Pakistan Rangers to come forward for investigation. They said we'll take care and take action," said Rakesh Sharma.

The officer said the tunnel dug from Pakistan was meant to push arms and terrorists into Jammu city.

In 2012, a sophisticated 400-metre tunnel with ventilation pipes was discovered in the Samba sector and another was found near the border in the Akhnoor sector in 2009.

"Their strategy was to keep the wild growth and to dig the tunnel," said the senior BJP officer.

Expertise and lot of engineering goes into the construction of such tunnels, officers say. Arrested terrorists have in the past talked about tunnels being used for infiltration.

With traditional routes for infiltration getting blocked in a big way, terrorists are believed to have changed their tactics.