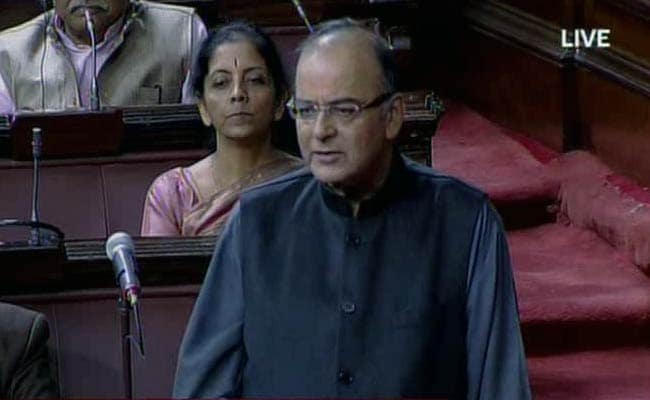 New Delhi:
Finance Minister Arun Jaitley will reply today in Lok Sabha to a debate on untaxed or black money stashed away in foreign accounts. In the Rajya Sabha on Wednesday, opposition parties like the Congress, Trinamool Congress and Left walked out as the minister spoke, saying they were "disappointed" with his reply.
Here are the latest developments
Mr Jaitley said in the Rajya Sabha that the government will proactively chase offenders and promised not to rest till the last black money account is identified. But he also said that the process would take time. "If we indulge in a populist and adventurist stance, it will help the black money account holders," he said.

The Finance Minister said, "427 accounts, we have been able to identify very well. 250 of them have admitted to having foreign accounts." He reiterated the government's commitment saying, "We took over a half done job from the UPA... it is everyone's wish that money siphoned off be brought back".

Mr Jaitley said it was not a question of whether to disclose names of those who hold black money accounts, but when to do so. The Opposition demanded during the debate that the BJP reveal names.

He deftly sidestepped the opposition's demand for an apology from Prime Minister Narendra Modi for what they alleged was his "failure" to fulfil his election promise of "bringing back black money from abroad in 100 days and distributing Rs 15 lakh to each citizen."

Former Commerce Minister Anand Sharma said, "The country has been misled... a promise was made to bring back black money within 100 days... there was politics to acquire power by tarnishing the ruling government."

"You are all bluffmaster... you have no intention to bring the money back. All false promises," the Trinamool Congress' Derek O'Brien said.

Ram Gopal Yadav of the Samajwadi Party, Mayawati, chief of the Bahujan Samaj Party, Sharad Yadav of the Janata Dal (United) and Sitaram Yechury of the Left were the other prominent speakers in the Rajya Sabha.

A discussion was held simultaneously in the Lok Sabha yesterday. The government had given in to the demand of a united opposition for a debate in the two Houses, but without a vote at the end.

In the Winter Session, Opposition parties plan to coordinate efforts to block key legislation in the Rajya Sabha, the upper house of Parliament, where the government is in a minority.

The Winter Session will continue till December 23 and will have 22 sittings. The government has detailed 37 bills - including the Insurance Bill and the Goods and Service Tax Bill.