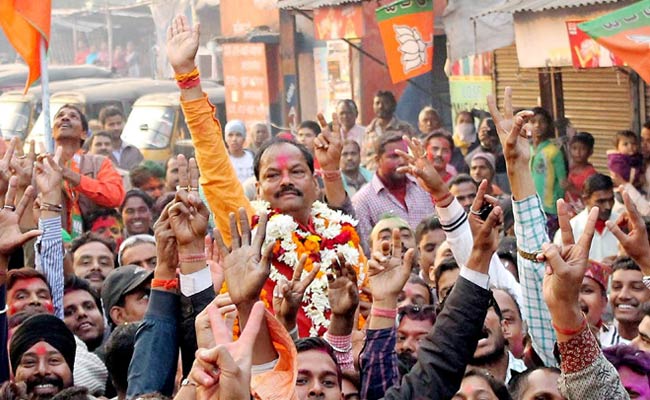 Patna:
BJP leader Raghubar Das will be the next Chief Minister of Jharkhand, the first non-tribal leader to hold the post since the state came into being in 2000.
Here is your 10-point ready reckoner on Raghubar Das:
Raghubar Das, 59, is a five-term legislator from Jamshedpur East. He won this time by a margin of over 70,000 votes.


He was appointed BJP vice-president this year as part of Amit Shah's new team.

Mr Das is also seen as close to Prime Minister Narendra Modi and was conspicuous by his side during most of the nine election rallies that the PM addressed in Jharkhand.


Before being elected to the undivided Bihar assembly for the first time in 1995, Mr Das worked at Tata Steel in Jamshedpur as a Grade 4 employee.


Raghubar Das is one of the few BJP leaders who not only enjoy the trust of the PM Modi-Amit Shah team, but also that of Home Minister Rajnath Singh.


Rajnath Singh had backed him for the post of Jharkhand BJP chief, making him one of very few people to hold two posts in a party that insists on the "one man, one post" formula.


Mr Das served as Deputy Chief Minister in the Shibu Shoren government of 2009-10 which fell after the Jharkhand Mukti Morcha leader voted for the Congress-led UPA government in Parliament.


Raghubar Das belongs to the influential Vaishya community and his appointment as chief minister is expected to pay dividend in neighbouring Bihar, where assembly elections are due next year. Vaishyas make ten per cent of the electorate in Bihar.


Mr Das' elevation can also win back the support of eight members of the Babulal Marandi-led Jharkhand Vikas Morcha, which broke away from the BJP because of a long running feud between Mr Marandi and Arjun Munda, who was seen as the BJP's natural choice for chief minister, but lost his election.

Raghubar is Jharkhand's tenth chief minster in 14 years. It has had nine governments and three stints of President's Rule since 2000.