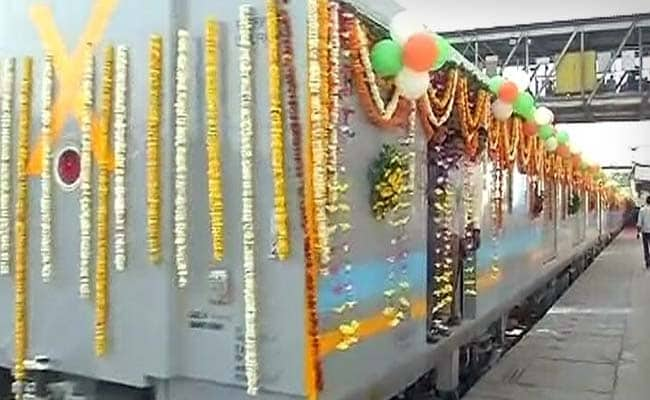 Highlights
At 100 miles per hour, train is just seven minutes faster than Shatabdi
Train to have on-board hostesses, WiFi, entertainment and a new food menu
The train is part of PM Modi's $135 bn railway network overhaul plan
New Delhi:
India flagged off its fastest-ever train on Tuesday as part of a major modernisation of the crumbling railway system -- but its top speed is only half of those in China and other countries.
Here are 10 facts about the Gatimaan Express:
The train from Delhi to Agra has a top speed of 100 miles per hour, compared to trains in China, Japan, France and other countries which can reach 200 miles per hour or more.

It's also just seven minutes faster than the Shatabdi Express on the same route.

Described by the government as India's first "semi high-speed train", it is part of Prime Minister Narendra Modi's $135 billion plan to overhaul the rail network over five years.

Tickets vary from Rs. 750 to Rs. 1,500, depending on seat class.

The Gatimaan also includes plush interiors and bio-toilets.

It boasts of on-board hostesses and bone china crockery.

There's a GPS-passenger information service and WiFi-based electronic entertainment system.

"Its speed is an improvement over other trains running on the same route at 150 kilometres an hour," said Indian Railways spokesman Neeraj Sharma.

The Gatimaan will run six days a week, except on Fridays when the Taj Mahal is shut.

Most trains in India average speeds of around 110 km an hour.