(Tejas Mehta is Bureau Chief, NDTV)
Respected Ashok Gajapathi Raju Garu,
I write this open letter as a common citizen of this country in the hope that if you happen to read it, as Civil Aviation Minister, you will act in India's interest to end the writ of 'VIP culture' that has so deeply permeated our political class. And so deeply failed our people.

So here is what happened. On February 15th, my entire family was returning to Mumbai from the temple town of Nathdwara in Rajasthan. We reached the Maharana Pratap Airport at Udaipur early.

Now, Sir, do take a closer look at the photograph in this article. On the wheelchair is my mother and the man next to her is my father.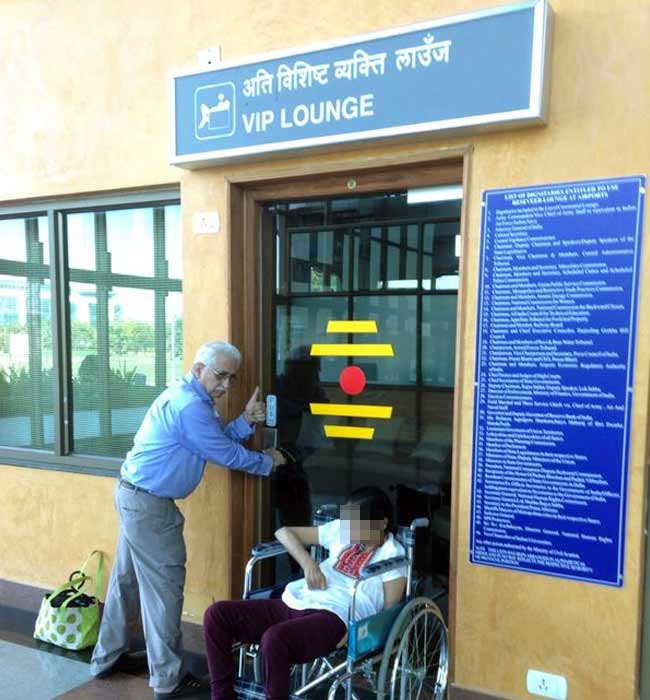 My mother suffers from a nervous disorder because of which she has involuntary body movements and hence can hardly sit properly, leave alone walk. I therefore requested your airport officials to allow her to use the grand, spacious and routinely-empty 'VIP Lounge'. I was politely refused. To be fair, your official was red-faced, apologetic and embarrassed. But, Sir, it is this 'VIP culture' which failed her.

Sir, my parents are gentle, law-abiding, tax-paying senior citizens. My mother is 66 years old and my father will soon be 70. What harm could they have possibly done if they had been given access to the 'VIP Lounge'? Do just glance once again at the photograph: do they look dangerous to you? Moreover, your airport official confirmed that no VIP was even expected on that day or the next! Then why this discrimination based on so-called status and class perceptions? Shouldn't at least senior citizens, the differently-abled and pregnant women all be treated as 'VIP' citizens? Truth is it is this 'VIP culture' which failed her.

And that's not all. Helpless, we proceeded and as per rules, our personal wheelchair had to be checked in. Soon, your Air India staffer brought one that belonged to the airport. A rickety wheelchair with a broken handle. So, a replacement wheelchair arrived after we complained - one that's much smaller and is used to ferry people inside the narrow aisle of the aircraft.

Just imagine: a 66-year-old ailing senior citizen who struggles to even sit properly had to squeeze into that tiny wheelchair from 1 pm to 3.45 pm. For 2 hours and 45 minutes, she was in even more discomfort. Whereas she could have comfortably sat on one of the many sofas of that barely-used 'VIP Lounge'. I assure you she would not have demanded anything. No, Sir, she doesn't drink. Nor would she have asked for free cashew nuts to kill time. But it is this 'VIP culture' which failed her.

Also, because of her disability people stare at her. It makes her nervous and that hurts her already low self-esteem. But certainly, access to that 'VIP Lounge' would have given her some dignified privacy. But again, it is this 'VIP culture' which failed her.


How would you have felt had you been in my shoes? Or if someone dear to you had to undergo such an experience?
The point is not just access to 'VIP Lounges' but their very existence as they are boorish symbols of a colonial and outdated mindset. Why should the aam aadmi's hard earned money be spent for the comfort of just a few? For security reasons? That's not always true as most VIPs get direct access to the tarmac!
Reality is that this 'VIP culture' is replete with perks and privileges which give our
netas
a huge kick. However, reportedly, you have asked your officials not to treat you as a '
khaas aadmi
' and have opted for normal security procedures ensuring there is no inconvenience to passengers.
That's fantastic, Sir! But why not impose this on our other 'VIPs' too? And after all, as Prime Minister Narendra Modi has so often said: politicians are
sevaks
- in service of the people. Certainly, what's good for the common public is good for them too. And if it is not, then being among normal citizens, they could learn a thing or two.
Ashok Garu, trust me: get rid of 'VIP Lounges'. Throw them open to the common public.
And be rest assured: India will appreciate and remember you for taking the lead.
Thank you for reading through this.
Disclaimer: The opinions expressed within this blog are the personal opinions of the author. NDTV is not responsible for the accuracy, completeness, suitability, or validity of any information on this blog. All information is provided on an as-is basis. The information, facts or opinions appearing on the blog do not reflect the views of NDTV and NDTV does not assume any responsibility or liability for the same.
Get the latest election news, live updates and election schedule for Lok Sabha Elections 2019 on ndtv.com/elections. Like us on Facebook or follow us on Twitter and Instagram for updates from each of the 543 parliamentary seats for the 2019 Indian general elections.