Kejriwal is right. For once.
Public transport cannot be run on a completely commercial basis; it must provide lakhs of people a way to get to work and earn a living. It must also encourage others to stop using private vehicles and take a bus or a metro. And when it costs more to take the metro than to ride your two-wheeler, why would anyone take the metro?
And, as Kejriwal has pointed out correctly, (that's two rights for him), if people choose their own transport, they increase pollution levels. There is a delicate balance between the price of travelling on the metro and using your own two-wheeler. Today, 25 kms each way on the metro plus some transport at the either end would cost a
Dilli-wala
more than Rs 110 and the inconvenience of waiting and changing the mode of transport. This probably tilts the scale in favour of using your own vehicle.
For a two-wheeler, the cost per kilometre is probably in the range of Rs 2.30 per kilometer* and at that price, at current metro rates in Delhi, short trips under 15 km each way are cheaper on your own scooter. plus you go door-to-door, don't have to fight your way on board a crowded train, etc.
And that is the problem. There are 6 million two-wheelers in Delhi and you want to encourage their owners to take the metro to reduce pollution and congestion. But, instead, metro prices have been raised twice this year, sending this message: the metro is not for you.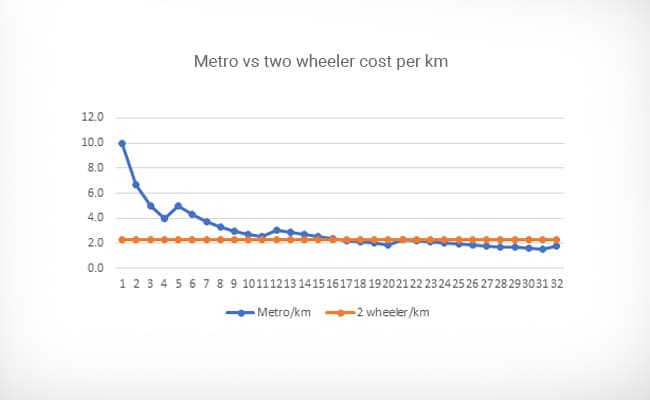 Part of the problem with the metro is that personnel costs have gone through the roof because of salary hikes and dearness allowance, which with other cost increases leaves a hole of Rs 700-odd crores in their finances. Now Rs 700 crores is not such a big number for Delhi. The environmental tax on incoming trucks over two year netted
almost Rs 800 crores
. Part of this can be used to finance a metro fare subsidy after the Delhi government buys thousands of those much-awaited electric buses.
Given that next year (after many delays), Delhi's metro reach will almost double in length, this is the time to get people onto the metro and not off it. The new lines add connectivity of two circles to the spokes, thereby making it possible for people to get from Noida to Dhaula Kuan without going to Rajiv Chowk. The two Delhi University campuses will be a 30-minute journey from each other and there will be a new connect to the airport. So why is everyone looking only at the metro's profitability and not at how it can reduce pollution? Further, a reduction in traffic will mean faster-moving traffic which in turn will lessen pollution.
Of course, subsidy is not a great thing, but there are some key aspects of modern life that need to be subsidized for the greater good and public transport is one of them. Most cities around the world that run metro systems subsidize them. New York runs an annual billion dollar subsidy while London gets a 25% subsidy (ending this year); Paris' subsidy is even higher.
And it is not as if private road transport is not subsidized. It is. Do we really believe that the one-time registration charge will pay for the roads that a car will use in its 10-year life? Or parking space, the traffic police, the infrastructure of lights and now, the flyovers? The average registration fee for a car costing 6 lakhs is about Rs 24,000 one time or Rs 2,400 a year or for car that does 10,000 kms in a year it is all of 24 paisa per km. Of course, there is VAT on petrol (besides excise which is a central tax) of Rs 15 (approximately depending on the oil price) which adds between a rupee or Rs 2 per kilometer depending on your car's consumption. So for a tax of Rs 2.50 per km you can drive around Delhi freely. Does that pay for all the infrastructure?
So while Arvind Kejriwal is right in asking for a reduction in fares for the metro, he needs to ensure that the metro repays its Japanese loans and continues to run a good, clean service. The only way to do that is to subsidize the fare. How does one do that so that the money goes directly into the Delhi Metro's account? The easiest and politically safest way is to tax the better off. Put a metro cess on petrol and add a metro tax on registration of vehicles, both of which go into a fund administered by the Delhi Metro. And to stop people from running across the border to buy cars or petrol, the central government has to ensure that the NCR states do the same. And if they don't, stop the metro from running there. UP and Haryana can't have the benefit of the metro without paying some political costs.
The mantra of profitability is fine, but there are enormous social and health costs to the polluted environment we live in and every effort has to be made to reduce it. Let Kejriwal now stand up and do something instead of just complaining. It's within his powers, and if he does it, it will pressure the central government to act. Finally, the people of two-wheelers and the those poorer are his constituency. Do something for them, Mr. Kejriwal. The time is now.
(* based on a five-year life of Rs 55000 100cc scooter doing 12,000 km a year at Rs 70 per litre petrol.)
Ishwari Bajpai is Senior Advisor at NDTV
Disclaimer: The opinions expressed within this article are the personal opinions of the author. The facts and opinions appearing in the article do not reflect the views of NDTV and NDTV does not assume any responsibility or liability for the same.