Rahul Verma is the founder of Uday Foundation, a small grassroots non-profit based in New Delhi.

Even by Delhi's miserable January standards, it was a bitterly cold night when we met Chandan in 2013. Volunteers with the Uday Foundation were distributing blankets to the homeless sleeping outside AIIMS. We saw Chandan, who was then 12 years old, on the pavement, covered with few blankets, moaning in pain. He was with his parents who told us that he was suffering from bone cancer and was undergoing chemotherapy at AIIMS. When they ran out of cash, the family, which had travelled to Delhi from Bihar, moved to the pavement.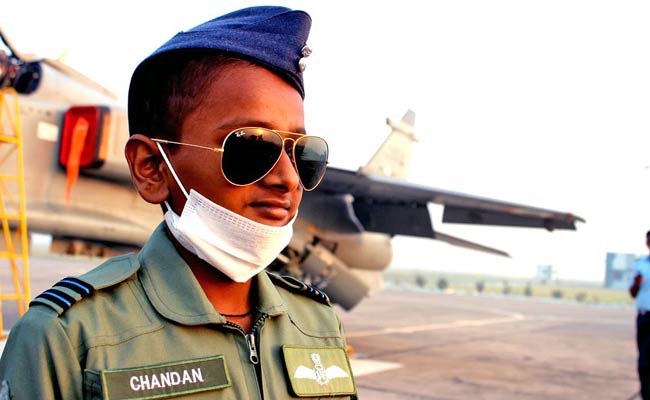 Chandan in IAF overalls at the Ambala Air Force Station on November 11, 2014.

A report on Chandan aired on NDTV and within two days, Chandan had over twelve lakhs deposited in the bank account that was set up for him. He was immediately shifted to a rented flat. Some of the money was used to cover the cost of his treatment. For the next two years, he underwent 22 sessions of chemotherapy; his smile defied the pain to make long and unforgettable appearances.


He used to visit our centre regularly. For a young teen, he was uncommonly certain of what he hoped to be someday - an Air Force Pilot. It was tough to get him admitted to school, so we decided to step up a small class room in the backyard of our health centre, where Chandan and a few other children were tutored informally.
Then as we were getting ready to celebrate Diwali, Chandan's father said that doctors had disclosed that he had no more than a few months left. That night, I went to his home; he was busy playing with a toy fighter plane.
As his birthday was approaching, I asked what present he would like. He said he wanted to fly a fighter plane on his birthday. Just to travel on a regular flight, he needed a fitness certificate from his doctors in advance; and here he was, talking about flying a fighter aircraft! But Chandan - and that smile - were possessed of unique powers.
A few days later, I received a phone call from Group Captain Yash Negi of the Indian Air Force. We had met while organizing relief work for the Kashmir floods. I conveyed Chandan's request. And within two days, I was informed that Chandan could visit the Ambala Air Force Station; they requested measurements for his uniform and shoe size.
And then there we were - on November 10, 2014, Chandan was given a warm welcome by the officers at Ambala. That smile was unshakeable once he put on the uniform that had been readied for him.
The next morning, Chandan was dressed in flying overalls, and he was given a short mission briefing by Group Captain P Vig, the Commanding Officer. He was then guided to a fighter aircraft where he was seated in its cockpit - he was told about how all the switches and screens worked. He got a first-hand feel of life of a fighter pilot.

Then he got to fly the Jaguar Simulator. In his words, "It was the most cherished moment of my life". The sortie on the simulator lasted for around 20 minutes. The most exciting maneuver, he said, was the loop.

Low-level strikes by the Jaguar and Bison aircraft were demonstrated for him. An air display blew him away.


After returning from Ambala, he was unable to move and was confined to his bed. He was in unbearable pain and even heavy doses of morphine didn't offer relief, but he smiled each time he spoke about his pilot experience.
Chandan died today - on Wednesday, February 4. He had just turned 14. For strangers everywhere who helped him, we are all grateful. In our grief, we thank you for your generosity and concern.
Disclaimer: The opinions expressed within this blog are the personal opinions of the author. NDTV is not responsible for the accuracy, completeness, suitability, or validity of any information on this blog. All information is provided on an as-is basis. The information, facts or opinions appearing on the blog do not reflect the views of NDTV and NDTV does not assume any responsibility or liability for the same.