(Vishnu Som is a senior anchor and editor of documentaries and special programs at NDTV.)

She stood there, tears rolling down her cheeks, an 11-year-old girl seeing her father for the last time.

Alka Rai rose above her grief to shriek an old Gorkha war cry; then she saluted her father Colonel MN Rai, an officer of the 2/9 Gurkha Rifles who was commanding the 42 Rashtriya Rifles.

The 39-year-old was killed by terrorists in Tral in Kashmir on Tuesday. A day earlier, he had been honoured for his bravery and awarded a Yudh Seva Medal on Republic Day, recognition for his immense capability and success as a Commanding Officer involved in anti-terror operations.

Colonel Rai is survived by his wife, Priyanka, and three children - two daughters and a son, Aditya.

At the very solemn ceremony today at Brar Square at Delhi Cantonment, 6-year-old Aditya touched his father's feet for the last time, perhaps not understanding the gravity of what had happened.

His mother was inconsolable, almost unable to stand as she tried to shower her husband's body with petals.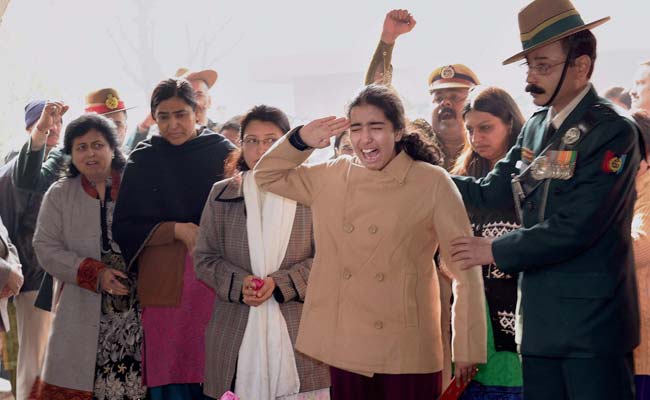 Helping her was a CRPF officer in uniform. He stood strong, holding Priyanka up and guiding her away. The officer was none other than YN Rai, Colonel MN Rai's brother. In 2002, YN Rai had taken a bullet for the country, fighting terrorists in Jammu during the famous operation at the Raghunath Temple when terrorists killed nine people and injured 42.

And finally, there was General Dalbir Singh, the Army Chief, a fellow Gurkha officer, saluting the Colonel and then reaching out to the family, holding them, and assuring them that when the chips were down, the Army stood together, as one family. The deeds of Colonel MN Rai would not be forgotten. And the family would always be looked after.

MN Rai was an inspiration for many around him, the ultimate leader and best possible friend. Former Army officers who had been cadets with him told us about how he would not only complete a route march with 22 kilos on his back but often pick up the 22-kilo backpack of fellow cadets who were flagging.


As an officer, Rai was known to always take the initiative in what the Indian Army considers one of its finest traditions - the officer corps leading from the front.
It was no different this time around. When intelligence reports came in of a group of terrorists hiding in a home in Tral, the Colonel was the first to act, rushing to the site with an Army Quick Reaction team. When members of a family emerged from the house claiming the militants would surrender, he paused for a moment, a moment that cost him his life. Storming out of the house, the militants unleashed automatic gunfire in all directions.
The Colonel was hit on the temple. He died later in hospital.
Another man also lost his life. Sanjeev Singh of the Special Operations Group of the Jammu and Kashmir Police was a Head Constable who had been involved in anti-terrorist operations for years. He too was shot down and died on the spot.
Colonel MN Rai, who also has another brother in the Army, based in Kolkata, would have lived life in no other way. For him, as with so many brave-hearts of the Army, India comes first, each and every time.
His last status update on WhatsApp said it all ... "Play your role in life with such passion, that even after the curtains come down, the applause doesn't stop."
Disclaimer: The opinions expressed within this blog are the personal opinions of the author. NDTV is not responsible for the accuracy, completeness, suitability, or validity of any information on this blog. All information is provided on an as-is basis. The information, facts or opinions appearing on the blog do not reflect the views of NDTV and NDTV does not assume any responsibility or liability for the same.