As pollution in Delhi and the north spikes,
this page on a government site
is proving to be very useful, particularly for a parent. But greater use of it is also bringing greater scrutiny. Are its warning standards too low, specially where children are concerned?
If one compares, as many are doing, the government's Air Quality Index or AQI to the one followed by the
US Embassy in Delhi
a couple of things stand out starkly.
To begin with, the national AQI has three danger levels - Poor, Very Poor and Severe. The US standard has four - Unhealthy for Sensitive Groups, Unhealthy, Very Unhealthy and Hazardous - which it applies to Indian conditions as well.
India's "moderate" begins at 100 AQI and ends at 200, the US index ends at 100. The table below shows the comparison.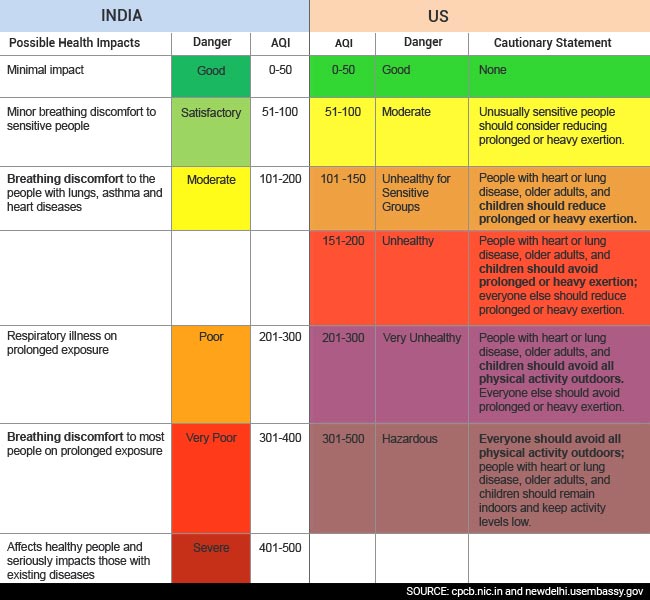 Also, the threshold of the highest danger level comes at an AQI of 301 in the US, but at 401 for the Indian government. In other words, the US sets the alarm bells ringing at much lower levels of pollution.
The difference, for a parent at least, becomes stark in the detailed warnings for children.
For the 3rd level of warning - Unhealthy for Sensitive Groups - the US index says "children should reduce prolonged or heavy exertion." The Indian index at its 3rd level or "moderate" danger doesn't mention children, although like the US standard, it warns of breathing discomfort to people with lung and heart diseases. And, of course, the elderly are always vulnerable.
Between an AQI of 150 to 200 or "unhealthy," the US index advises that children should avoid prolonged or heavy exertion.
India's "poor" warning begins above an AQI of 200 and says breathing discomfort could be caused to most people on prolonged exposure. There is no separate warning for children. What stands out is that the US warning doesn't differentiate between healthy or unhealthy kids.
Between 200 to 300 AQI, the US advisory wants kids to avoid
all physical activity
outside. The Indian one simply warns of "breathing discomfort to most people on prolonged exposure." Again, there is no separate warning for kids.
The National Green Tribunal (NGT) has asked for
stay at home warnings
for kids and older people.
Current pollution levels in north India hover between "very poor" (to AQI of 301 to 400) and "severe" (AQI 401 to 500). Here again, the US advisory is less tolerant of pollution, with everything above 301 seen as hazardous, unlike the Indian index, where the highest danger level begins at 100 points more.
The Central Pollution Control Board's warning reports max out at 500. Pollution levels in some places are way above. For example on a 24-hour span between 30th November to 1st December, the average concentration of PM 2.5 (particulate matter with a width about 30 times less than a human hair) hit 999 micrograms/cubic metre. This was in east Delhi's Anand Vihar; compare this to a week's average, till the 3rd of December, which was 466.
At such high levels of pollution, capitals like Beijing and Paris react by, say, shutting down schools, blocking vehicles, reducing work hours of outdoor labour. In India that doesn't happen yet.
There may be a perfectly reasonable explanation for this worrying difference. But it's not apparent on the AQI page or
bulletins
by the Central Pollution Control Board. The point of the whole exercise, as officials have said, is to raise public awareness and provide a tool.
But even though it was launched recently, as with any encouraging start-up, perhaps it's time to upgrade the system. The number of people suffering is staggering. In and around Delhi there are over 20 million people, from Punjab to Bihar there are about 400 million.
(Chetan Bhattacharji is Managing Editor at NDTV)
Disclaimer: The opinions expressed within this article are the personal opinions of the author. The facts and opinions appearing in the article do not reflect the views of NDTV and NDTV does not assume any responsibility or liability for the same.