(Ally Matthan is a perfumer and has set up two brands Areev, a bath and skincare line, and Ally Matthan Fragrances. Anju Maudgal Kadam is founder & director at WebTv.in)

They say that all its takes is a whisper to cause a rustle. What started out as a simple conversation between my friend Anju Maudgal Kadam and I has mushroomed into a virtual movement.

I grew up in a sound contemporary home where the women wore sarees all the time. My grandmother, who is severely South Indian and ran an incense stick factory, wore Kanjeevarams to work. The sarees of these workers never seemed at odds with their modern lifestyles. I recently received a bunch of my grandmother's Kanjeevarams, and as I looked at them, it seemed strange that I would wear her everyday clothes only on special occasions.

Anju, too, grew up in a home where the women lovingly embraced their saree-wearing heritage. Her mother and sisters would embroider and paint theirs, adding personal touches . As a young journalist, Anju embraced the saree, discarding it later for "easier" and "more comfortable" attire. She had recently been egged on by another friend to throw open her saree wardrobe.

As we chatted, it seemed to us that we each adored these beautiful hidden treasures. Our sarees were only aired out as an exercise, and worn sparingly. And yet we valued them so much because each one had a memory, a story, and a point of view that we cherished. We decided to seal a pact: we would wear a saree 100 times this year. Repeats allowed. That amounts to a saree two or three times a week.

As soon as our first #100sareepact posts were put out on Facebook - more to keep tabs on ourselves - several of our friends joined in. And then some more. And more continue to everyday! We ask people to email us photos and the stories of their sarees at mystory@100sareepact.com

Regardless of whether you're an Indian man or woman, or someone else who has been touched by India, you will have a saree story to share.

Like Soba Thomas. "I vividly remember walking into Parthas...going through the silk counter...and suddenly my eyes sparkled. I had found my sari, which had to be mine for a lifetime. The purple Kanjeevarams with broad navy blue zari border had an elegant yet majestic look. I fell in love with its warm and inviting appeal. Years rolled by with many things happening in and out of our lives ...some to our taste and others to our distaste. I deeply grieved losing my father, mother, and sister on the way. In the meantime, a chubby girl came into my life, entwining her tiny fingers, holding my hands... and my world revolved around her.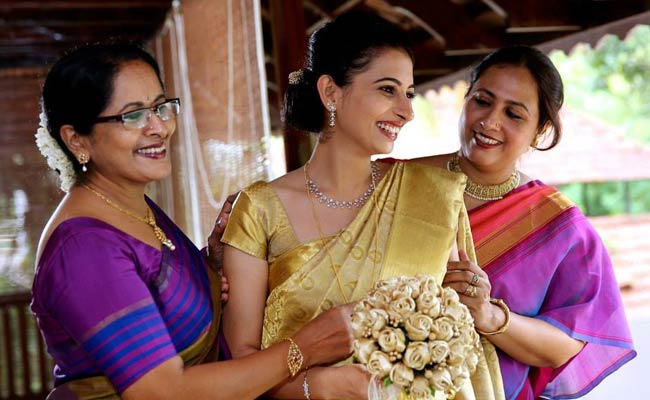 Soba Thomas with her daughter at her wedding.
Today is her wedding day. What better option than to wear the same one destined for my wedding day. It occurred to me...my world.. my family...my parents who had been there for me are not there today...but they still live on in the sari purchased years ago. Their presence was there with me throughout the solemn ceremony and afterwards.... because it was a thing of the past, sentimental yet living for me. I proudly wore it...head held high and knew that the choice was right...they were there with the bride and me. The silky softness of my sari smiled back at me. Unashamedly I felt like a radiant bride too...thank u my purple wonder!"


I look forward to Nargarjun's posts - he writes virtually everyday about the women in his life:
"Takshila performs a harvest dance at The Valley School. It's her
arangetram
. It's also her public debut in a saree, which is just as much of a rite of passage. Her complexion, sinewy figure and mannerisms remind me of my mother and great grandmother. I imagine this is exactly how they were as girls."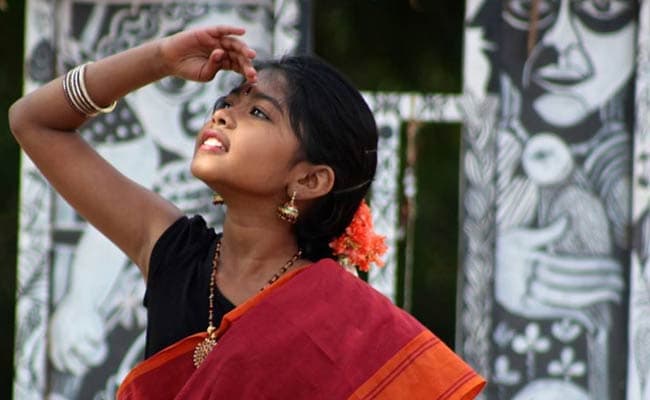 Takshila at her harvest dance.
We read about triumphs, events, families, rituals, weaving techniques. They are each engaging, meaningful and have had an impact on someone's life.

We hope to collect these stories and make them available for all to enjoy on our website www.100sareepact.com. It gives us the opportunity to celebrate women and men, to celebrate India and to celebrate a unique way of life!

We'd love for you to join #100sareepact! Show your sarees the love they deserve. You decide what works best for you - share old stories with picture, decide how often you'd like to wear a saree. It's up to you.

If you have a story, do share on Twitter or Facebook by posting and tagging #100sareepact. Happy for us to also enjoy your story? We are at @Maudgalkadam@ahalyamatthan and @100sareepact. Or you can write in to mystory@100sareepact.com


Disclaimer: The opinions expressed within this blog are the personal opinions of the author. NDTV is not responsible for the accuracy, completeness, suitability, or validity of any information on this blog. All information is provided on an as-is basis. The information, facts or opinions appearing on the blog do not reflect the views of NDTV and NDTV does not assume any responsibility or liability for the same.