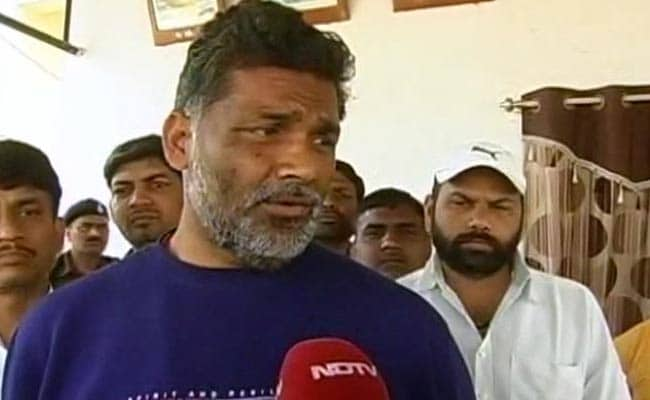 Patna:
Controversial Bihar lawmaker Pappu Yadav has announced that his newly formed party, the Jan Adhikar Morcha, will fight the upcoming Bihar elections in alliance with the Samajwadi Party and the Nationalist Congress Party. The SP and the NCP have moved away from the Nitish Kumar-Lalu Prasad alliance in Bihar, miffed at the number of seats offered to them for contesting the upcoming polls.
It is a U-turn, a forced one say sources, for the Madhepura MP, who till recently had given all indications he would fight the upcoming Bihar polls allied with the BJP. Sources say the decision not to ally has come from the BJP rather than Mr Yadav.
Pappu Yadav is a controversial Bihar lawmaker whose acquittal in a high-profile murder case a few years ago has been challenged by the Central Bureau of Investigation (CBI) in court. Mr Yadav holds sway over Yadav votes in Madhepura and some other areas of North Bihar, a vote that's mostly seen to be allied with Lalu Prasad, who is fighting the polls allied with Chief Minister Nitish Kumar.
In May, Mr Yadav was expelled from the Rashtriya Janata Dal (RJD), headed by Lalu Prasad after he repeatedly questioned Lalu's statements saying one of his two sons would succeed him as head of the party.
Sources close to Pappu Yadav said that even before his expulsion, he met with the PM at his chamber in Parliament, interpreted as a sign of an impending crossover to the BJP. But sources in the BJP say that Mr Yadav's image, and his involvement in high-profile criminal cases forced the party into a rethink, after initially cosying up to him.
About two months ago, the Home Ministry awarded "Y category" security to Mr Yadav citing threats from "political rivals, criminals and Maoists" in a written communication to the Bihar government. The 48-year-old parliamentarian now has 11 personnel protecting him.
Rival parties had alleged that the move to promote these politicians to "VIP security" status was linked to the polls, in which the Nitish Kumar-Lalu Yadav combine is facing a challenge from the BJP.
Pappu Yadav, whose name is Rajesh Ranjan, was found guilty in 2008 of murdering a Left leader, but he was acquitted in 2013 by a higher court. The CBI has appealed this verdict in the Supreme Court.