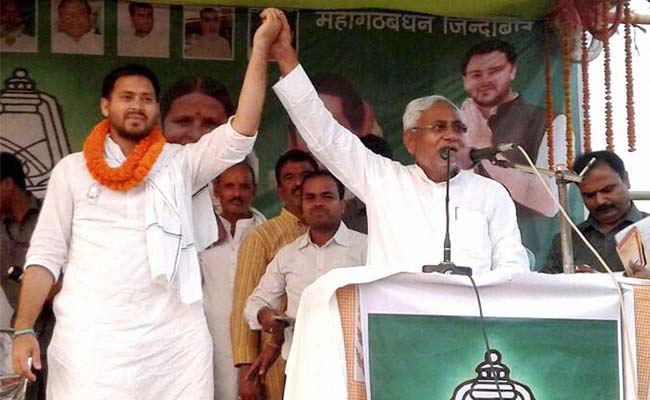 Patna:
In an apparent bid to create fissures in the 'Grand Alliance' ahead of the remaining three phases of Assembly polls, the BJP has made public Bihar Chief Minister Nitish Kumar's letter to the then Chief Minister Lalu Prasad 23 years ago in which he had charged Mr Prasad with fostering corruption and giving leverage to a particular caste in government jobs.
The BJP published selectively from Mr Kumar's letter in full-page advertisements in vernacular dailies yesterday and asked people to decide for whom to vote.
The letters were taken from author Srikant's book 'Bihar: Chitthion ki Rajniti' (Bihar: Politics of Letter).
In the letter written in December 1992, Mr Kumar accused Mr Prasad, then his comrade in-arms, of renouncing social justice agenda and making it a mere slogan for personal popularity.
"There appears to be grave injustice to the extent that one can smell a sense of prejudice when one looks at practical aspect of the social justice agenda (in Bihar)," he had purportedly written in that letter.
Claiming that contrary to perception that OBC people will too benefit from the state government's thrust on social justice agenda,
Mr Kumar, the then senior leader of National Front, alleged that grave irregularities and malpractice were carried out in recruitment in police giving an impression that all vacancies were reserved for a particular dominant caste.
Mr Kumar said he was told by a lawmaker that a particular community was given preference in recruitment.
He had also questioned the then Chief Minister on secularism saying the conduct of the latter reflect an idea that he was the sole flag-bearer of secular ethos.
He also charged Mr Prasad with hijacking secularism plank for self-promotion and publicity.
Mr Kumar also attacked Mr Prasad alleging that his rule has become an ocean of corruption and a message went down to the grassroot level that the state government had given patronage to corruption in projects like road construction.
Rules of transfer and posting were flouted in road construction department, the letter purportedly said and charged Mr Prasad with being part of corruption network in the same department.
"The fact that you have not taken action against the (road construction) minister gives doubt to your connivance in corruption and irregularities in the said department," Mr Kumar said in the letter.
He also charged Mr Prasad with collusion with corporates.
Mr Kumar, then Lok Sabha lawmaker from Barh, had expressed concern on the ever deteriorating financial condition of Bihar, which he said, was in direct control of the Chief Minister.
"The balance between income and expenditure was tilted in favour of income at the time you (Prasad) became the chief minister in March 1990...but in subsequent years, expenditure overran income prompting huge cut in plan outlay which have had a bearing on development works," Mr Kumar said in the letter.
Claiming that Bihar had become a butt of jokes in Delhi, he said whatever the Chief Minister submitted to the Centre for annual and plan budget was worth throwing them in basket but sanctions were given on political consideration.
During his chief ministership, intellectuals and specialists felt helpless and ignored but it was senior bureaucrats who felt more harassed and fear-stricken, the letter said.