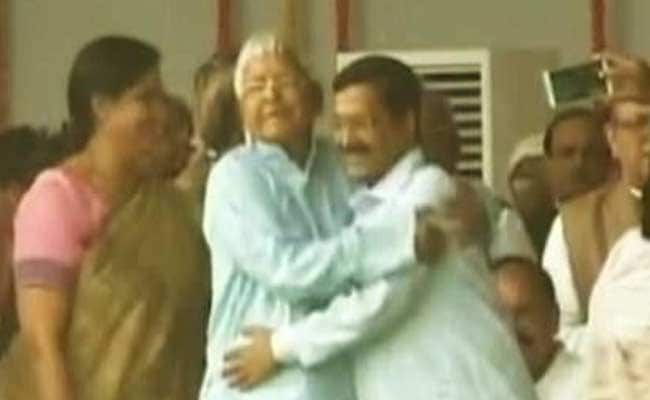 New Delhi:
Delhi Chief Minister Arvind Kejriwal today drew flak from leaders of various political parties for hugging Rashtriya Janata Dal (RJD) chief Lalu Yadav during the oath-taking ceremony of Bihar Chief Minister Nitish Kumar.
Former Aam Aadmi Party (AAP) member and Swaraj Abhiyan leader Yogendra Yadav said that it was a "shameful" act.
Mr Yadav, who was expelled from AAP, said it was not mere hugging, but the defeat of ideals to form a bloc against the Bharatiya Janata Party (BJP).
"Political capital of the movement sold to symbols of political corruption. Ashamed!"
"This is the same logic which Congress supporters used to use against the Lokpal movement. They would say that they (the Congress) are corrupt, but the Lokpal movement should not be supported as it would help the BJP. Kejriwal used the same logic, but shamed those strove against corruption," Mr Yadav said in a post on his Facebook page.
Lok Janshakti Party (LJP) leader Chirag Paswan said he was surprised to see Mr Kejriwal hugging RJD chief. "You cannot give Lalu ji a benefit of doubt as he has been convicted in a corruption case. Kejriwal is known for his anti-corruption stand and his hugging Lalu ji indicates whether he has stopped his war against corruption."
BJP's Sambit Patra also attacked Mr Kejriwal saying the AAP chief used to hold one press conference after another in which he would name Lalu Yadav in his list of most corrupt politicians.
"Yesterday, Arvind Kejriwal hugged the ideology which he had been opposing," Mr Patra said.
Delhi Chief Minister was criticised even on social media with many even posting a tweet of his that wrote in October 2013.
"Laloo made crores in fodder scam. But no order for recovery of that money. Just 25 lakh fine and few years in jail. A sweet deal," Mr Kejriwal had tweeted.
Hitting back, Mr Kejriwal supporters claimed that it was Lalu Yadav who forcibly hugged him despite his reluctance and defended the friendly gesture between the two saying that it was nothing but a "political courtesy".