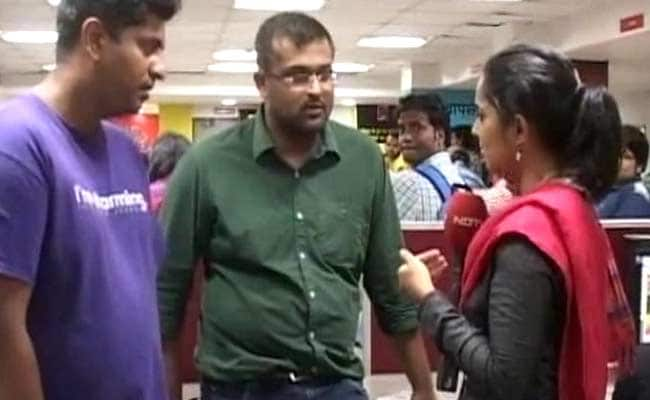 Patna:
"Nalanda 7-0, Kishanganj 4-0 and Samastipur 10- nil," shouted an excited Arjun Dutta, announcing the leads coming in favour of the JD(U). Loud cheers went up every time the Grand Alliance ramped up the numbers in trends.
The 6th floor office of the Indian Political Action Committee or IPAC led by the camera-shy Prashant Kishor was abuzz with activity.
Mr Kishor had crafted Prime Minister Narendra Modi's national election campaign last year. This time, Nitish Kumar's posters adorned the walls of his headquarters, sharing space with campaign slogans and quotes from Martin Luther King and Plato.
It was in this vibrant setting that Manish Sharma was hard at work. A graphic designer, he was giving finishing touches to posters that were to be splashed across social media after the win.
Another team was monitoring Mr Kumar's social media pages, pausing once in a while to exchange high fives.
Mr Dutta left a job with Abbott Labs in the US six months ago to come and work with the IPAC. Manish, 23, was guest faculty at NIFT.
"When I came here six months ago, I had absolutely no idea of the state politics. It's been a lot of hard work, but I'm glad I've been a part of this amazing process," said Mr Dutta, who plans to take the next couple of months off.
Rishi Raj Singh and Pratik Jain plan to follow suit. The two graduates from IIT gave up their high paying jobs to join Prashant Kishor's strategy team.
"He is my mentor," said 26-year-old Pratik Jain. "He has shown that even in politics, there is space for people like us."
Group discussions, in-depth interviews, detailed presentations may not have been associated with politics but that's exactly what they did. And more. Their catchy slogans, instant one-liners, ads helped the JD-U match the BJP campaign at every step.
"This place is very democratic. We have to make presentations for everything. If the majority agrees the idea goes through," said Rishi Raj Singh, a former investment banker. "Presentations had to be made when someone wanted to put up a coffee vending machine, but the plan didn't get majority support twice," he laughed.