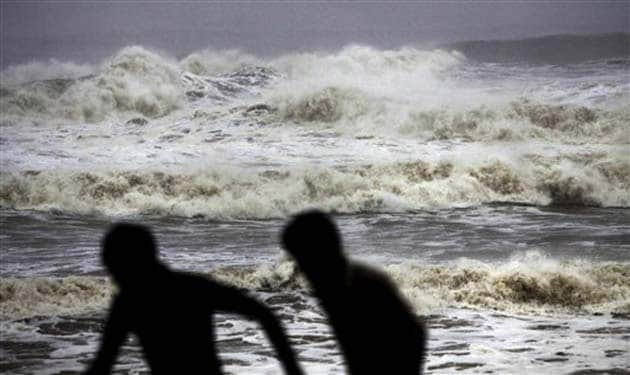 Bhubaneshwar:
Cyclone Phailin, packing heavy rains and wind speeds of 200 kilometres per hour, slammed into the coastal town of Gopalpur in Odisha shortly after 9 pm today. Sources in Chief Minister Naveen Patnaik's office say over seven lakh people had been evacuated from the coastal areas today before the monster storm, categorised as "very severe", struck.
(Read)
The Met department has said that the first six hours after the cyclone's landfall would be critical; it will continue to remain a "very severe" cyclone during this period.
Sources say the Chief Minister has asked the administration to remain on high alert tonight as wind speeds continue to be high across the coast. Ganjam district, which is likely to bear the maximum brunt of the cyclone, has reported wind speeds of 240 kilometres per hour. Mr Patnaik will hold a review meeting at 10:30 am on Sunday after local teams assess the extent of the damage.
(Track updates)
"I request everyone to not panic. Please assist the government. Everyone from the village to the state headquarters have been put on alert," Mr Patnaik had told reporters earlier.
(Helplines)
At least five deaths have been reported across the state due to incidents of wall collapse.
But the state government, which had set a "zero casualty target", says it is better prepared this time around vis-a-vis the more-powerful super cyclone that ravaged Odisha in 1999, killing nearly 15,000 people.
(Foreign media on Cyclone Phailin)
The capital city of Bhubaneshwar, which is also experiencing strong winds and rain, has been plunged into darkness owing to power cuts. The airport in the city has already been shut and is expected to remain closed till Sunday evening.
(Read)
500 tonnes of relief material had already been flown into the city by the Air Force through its latest acquisition, the C-17 Globemaster which landed at the airport earlier during the day.
Sandeep Rai Rathore, inspector general of the National Disaster Response Force, said 1,200 of the unit's troops had been sent to Odisha.
Large boats could be seen anchored out at sea, while the biggest port in Odisha in Paradip, has shut down.