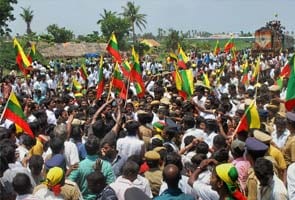 Bhopal:
The police have detained politician Vaiko and his supporters on the border of Madhya Pardesh and Maharashtra, about 350 kilometres away from Sanchi. They were protesting against the visit of Sri Lankan president Mahindra Rajapakse, who they say must take responsibility for alleged atrocities against thousands of Tamils in his country. Police had increased security to keep Vaiko and others from reaching Sanchi.
Vaiko heads the MDMK, an opposition party in Tamil Nadu. The Sri Lankan President will be in Sanchi in Madhya Pradesh, 45 kilometres from the capital of Bhopal, to inaugurate a Buddhist university. Chief Minister Shivraj Singh Chouhan, who heads the state's BJP government, had urged Vaiko to cancel his protests because he said the Sri Lankan president's visit has no political agenda.
In Chennai, a hundred protestors were arrested as they surrounded the Sri Lankan high commission.
All political parties in Tamil Nadu blame the Sri Lankan defence forces for alleged human rights violations of the minority Tamil population in the last few months of the island's civil war, which ended in 2009 with the defeat of the LTTE militants. In March, Tamil Nadu's parties led by the DMK, which is an important constituent of the union government, pressured India to vote against Sri Lanka and support a UN resolution that asks the island's administration to examine allegations of atrocities.
(with inputs from Agencies)